Is your company hiring out of state employees in New Hampshire? Perhaps a current employee is considering relocating there but planning to remain on your team. This may seem like an easy-enough concept, but if your business hasn't traditionally had out-of-state employees, you may be surprised by how much legwork you'll need to do to ensure your company is compliant with New Hampshire's employment standards.
Employment laws and standards can vary considerably from state to state, and what seems like a small difference can wind up creating a big headache—and potentially even costing your company—if you haven't accounted for it going in. A big part of getting your new employee up and running in New Hampshire is making sure all these policies are in line with the state's requirements.
With SixFifty's multistate employer registration tool, having an out-of-state employee in New Hampshire doesn't have to be a bureaucratic hassle for your company. We make it easy to work with employees in all 50 states and rest assured you're fully compliant.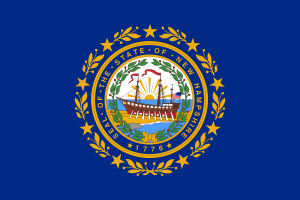 Scenario 1: Employee works from home in another state
Suppose your company is based in Wisconsin, and with a remote work option available to them, one of your employees has decided to move to New Hampshire for a different pace of life. This means your business will have to establish an economic nexus in New Hampshire, comply with state-level employment standards and ensure your tax status is in order. Failure to do so can leave your company open to a host of legal and financial penalties.
Scenario 2: Hiring out-of-state employees in New Hampshire
One of the great things about remote work is that it allows businesses to hire candidates based outside of their home state. If a prospective employee in New Hampshire is interested in joining your team, you'll need to establish an economic nexus there, as well as register your company as an employer and make sure the policies outlined in your employee handbook are in line with New Hampshire's state standards. It's a process, but one that makes it possible for your company to recruit in new talent markets.
Multistate Employer Registration Factors to Consider
In both of the above scenarios, employers need to pursue multistate compliance or risk being held accountable by the Department of Labor for failing to comply with state-specific employment standards. Compliance differs across all 50 states. To simplify the process, SixFifty has narrowed down multistate employer registration considerations to five core areas of focus. 
Here's what it looks like for companies hiring out-of-state-employees in New Hampshire—or accommodating employees moving to New Hampshire if there's no established business nexus.
1. New Hampshire Employment Registration
The first step in hiring out-of-state employees in New Hampshire is obtaining a registered agent and a certificate of authority, which allows you to conduct business in the state. Next, you'll report new hires to the New Hampshire Employment Security. After this there will be a number of other steps you'll need to take to get up to speed on New Hampshire compliance standards.
Obtain a registered agent
Obtain a certificate of authority in New Hampshire
Report new hire to New Hampshire Employment Security
Register for unemployment insurance
Report unemployment insurance account to payroll provider
Obtain workers' compensation coverage or update the policy
Register for paid leave in New Hampshire
2. New Hampshire Tax Registration
With no state income tax or sales tax, your taxation compliance procedures in New Hampshire should be substantially simplified. It's worth double checking with your registered agent to make sure you aren't missing any tax-related steps in getting your business set up, but in theory, hiring an out-of-state employee in New Hampshire should be pretty easy in this regard!
3. New Hampshire Employment Policies
When hiring an out-of-state employee in New Hampshire, keep in mind that the policies outlined in your standard employee handbook may not be consistent with what this state requires. For this reason, you'll need to update your handbook to reflect the terms and conditions outlined by New Hampshire employment law as it relates to pregnancy and parental leave, jury duty leave and more.
Review employee handbook for compliance
Update policies or add new leave policies as needed
4. New Hampshire Required Employment Policies (April 2023)
Business Expense Reimbursement
Crime Victim Leave (25 Employees)
Emergency Services Leave
Jury Duty Leave
Meal and Rest Breaks
Pregnancy and Parental Leave (5 Employees)
Whistleblower
5. New Hampshire Employment Implications
If you've never hired an out-of-state employee in New Hampshire, you likely have little to no understanding of the state's specific employment implications—and you definitely don't want to assume what's true in your state is also true in New Hampshire. Before you hire a new employee, you'll need to get familiar with the policies and standards that will apply.
Ensure non-compete provisions comply with New Hampshire law
Confirm the employee is paid at least the minimum wage
Review the applicable overtime laws
Confirm the payroll practices meet the payment frequency standards in New Hampshire
Consider whether insurance extends coverage to employees in New Hampshire
Consider COVID-19 laws that affect the employee
6. New Hampshire Signage
While New Hampshire doesn't have a specific signage requirement in place for remote employees, you can default to the U.S. Department of Labor's electronic posting policy to ensure your remote employees have access to this critical information. This includes signage regarding workers' compensation, whistleblowers' protection, equal pay, unemployment and more.
Post or distribute required signage
Simplify Multistate Compliance with SixFifty
The process of maintaining compliance can be complex and extremely nuanced for companies unfamiliar with New Hampshire employment laws and standards. It's why SixFifty has compiled an extremely useful tool for businesses hiring out-of-state employees in New Hampshire. To simplify the process of hiring out-of-state employees in New Hampshire or supporting remote employees on-the-move, check out our 50 State Hiring Kit.