On March 3, 2022, the US Department of Homeland Security designated Ukraine for Temporary Protected Status. Soon after, SixFifty built a free tool to help Ukrainians and their attorneys streamline the application process. We also wrote a helpful explanation of TPS and how to apply. 
On April 19, 2022, details were published to the Federal Register, finally clearing the way for applications to be submitted. Here's an overview of exactly how to use SixFifty's free TPS tool—whether you're an applicant or an attorney.
About TPS for Ukrainians
For more information about Temporary Protected Status, read SixFifty's blog "What you need to know about Ukraine and Temporary Protected Status." 
Here are the main details you need to know:
The Department of Homeland Security designated Ukraine for Temporary Protected Status for 18 months.
That "18-months" started on the publication date of the Federal Register notice, April 19 2023. So unless DHS extends the designation, it will end on October 19, 2023.
DHS can designate a country for Temporary Protected Status when conditions in that country temporarily prevent its nationals from returning safely, or when the country is unable to handle the return of its nationals adequately. 
DHS makes these designations for three reasons: 1) ongoing armed conflict, 2) environmental disasters, 3) or extraordinary and temporary conditions. 
In the case of Ukraine the designation is based on both ongoing armed conflict and extraordinary and temporary conditions in Ukraine.  
in order to be eligible for TPS, a Ukrainian national must have continuously resided in the United States since April 11, 2022. 
Ukraine TPS or Asylum?
SixFifty also automated the application paperwork for Asylum, and Ukrainians can apply for both asylum and TPS. But if they already have asylum, it's unlikely they'll benefit from TPS. Some people may benefit from applying for both, but Asylum is much more complex than TPS. It often takes years, and the stakes of applying are higher. If an asylum claim is deemed "frivolous," that applicant can lose the ability to apply for any immigration status in the US, forever. 
Asylum is available to people coming to the United States for protection because they have suffered persecution or fear that they will suffer persecution due to their Race, Religion, Nationality, Membership in a particular social group, or Political opinion. And that persecution must come from their own government or groups that their government is unwilling or unable to stop. 
Most Ukrainians who are currently in the US and have been here since April 11, will likely be best served applying for TPS.  
How to Apply for Temporary Protected Status
Even though the government has designated Ukraine for TPS, and Ukrainians who have been here since April 11 are eligible, TPS is not automatic. Applying for TPS  involves almost 70 pages of documents if applicants also want to work while they're in the US, and all of those documents are in English. The American Immigration Council estimates that over 60,000 Ukrainians are eligible for TPS, and other estimates put that number above 75,000. 
According to the American Immigration Council only about 4% of Ukrainians who are eligible for TPS speak English in their home, so the fact that TPS paperwork is all in English presents an additional challenge. Luckily, SixFifty added helpful Ukrainian translations for those who speak English well enough to complete the application. For those who need the help of an interpreter, 
SixFifty has partnered with TransPerfect and Wilson Sonsini to make translation and interpretation affordable and accessible. Email probono@sixfifty.com for more information. 
SixFifty worked with immigration experts to automate the Temporary Protected Status and Asylum applications. Applicants can start on their own at SixFifty.com/Ukraine. They'll be emailed their documents in Microsoft Word format. They can then share their documents with an attorney. Applicants should seek the help of an expert to review the application documents before submitting them. 
How attorneys can help Ukrainians apply for TPS
Even if you haven't worked on a Temporary Protected Status application before, you can help Ukrainians in the US apply for TPS. Organizations like Practicing Law Institute and Lawyers for Good Government have created very helpful training materials on how to work with Ukrainian TPS applicants, and you can use SixFifty to generate the application documents. 
The first step is to get involved! Volunteer with your organization, or through groups like Lawyers for Good Government. Be sure to work through your pro bono leaders—whether that's a pro bono coordinator, pro bono partner, or other leadership at your company. Doing any kind of pro bono work often requires planning by your employer. 
Once you're ready to help, there are 4 ways to use SixFifty: 
Review applications. Direct applicants to SixFifty.com/Ukraine.  They can create their free account, generate forms and instructions, and get documents emailed to them in Microsoft Word format. The applicant can then send you those documents, and you can review them together. 
Use SixFifty.com/Ukraine yourself. Maybe you have a client intake form with all the information you need to get started, so you create an application and then set up an interview with the applicant to finish. In this scenario, you're the one filling in the answers to SixFifty's questionnaire.
Collaborate on the application. Option 3 is the best option for most users. You and the client share a SixFifty.com/Ukraine account and collaborate on the questions together— in real time or asynchronously. Anytime you need to make changes or updates, you can regenerate the documents. This method requires sharing credentials and using "email aliases." We'll talk more about aliases in a moment. If sharing credentials or using aliases won't work for you and the applicant, use option 1 or 2 instead. 
Advanced collaboration tools. If needed, we can create a full SixFifty account for you—with all the bells and whistles that our paying customers get—for free. This option requires more work on your part, and is only the best option in some scenarios. If you need this option, email probono@sixfifty.com and put "Ukraine SixFifty Account" in the subject line. 
Review applications
One way to help is by reviewing the applications that SixFifty users have already generated. SixFifty TPS users will have their documents in Microsoft Word format, so you can easily review their forms and the instructions that SixFifty sends them. If you'd like SixFifty's help connecting with applicants who have requested assistance, email probono@sixfifty.com. 
Use SixFifty.com/Ukraine yourself
It's free and easy to try out SixFifty TPS tool. There are helpful screenshots and more information later in the next section of this article. 
Collaborate on the TPS application
You can use SixFifty to collaborate on TPS paperwork with applicants. Here's how. 
First go to sixfifty.com/ukraine and choose TPS.  This page explains a little about TPS and SixFifty's tool, and it's available in English and Ukrainian.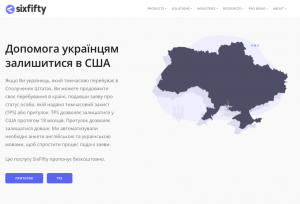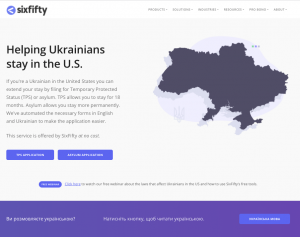 Clicking on "TPS" takes you to the account setup and login page. Bookmark this page for easy access, this is your TPS launching pad. Note that if you already have an account, there's a link in the bottom right to "log in" instead of creating an account. 
Now, create an account. If you're working on the application alone, use your email address. If you're collaborating, or if you need to create multiple accounts using one email address, you can use "email aliases." See more information about aliases later in the article, and make sure your email address supports aliases before using one to create an account.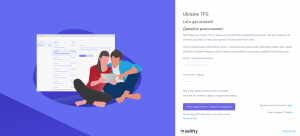 In this example, I'm creating a new account for a new application. It's me and my friend Alex helping an applicant named Katia.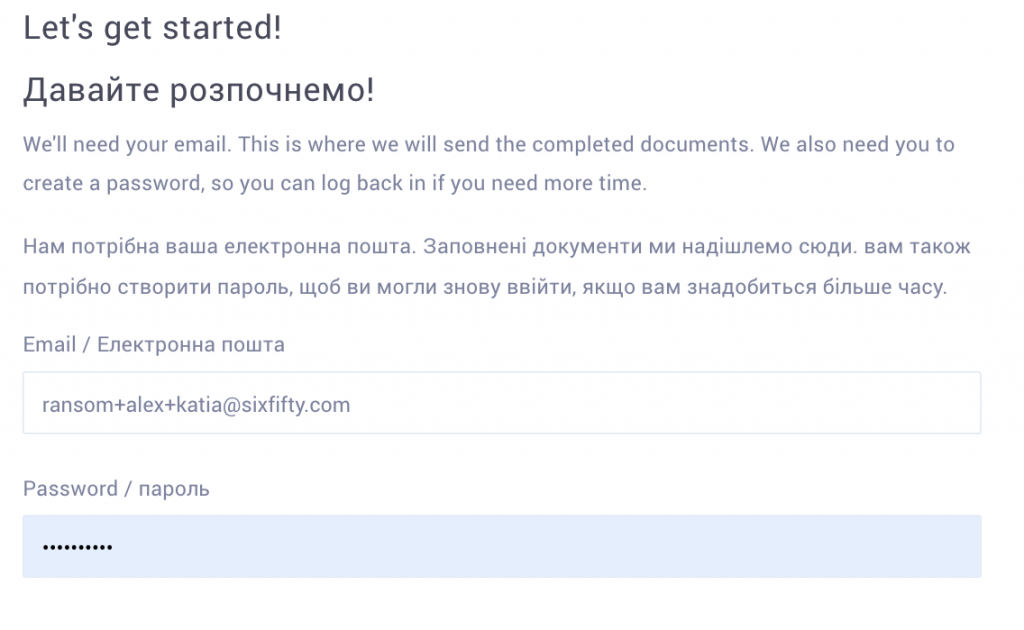 SixFifty sees this as a separate email address from "ransom@sixfifty.com" but when I generate my documents, that's where the email will go. Using Aliases lets me create multiple accounts while only using one email address. 
Most email providers, like Google and Office 365, support aliases. But it's important to note that not all email providers do. Before using this method, send an email to yourself by adding a "+test" before the @ symbol. For example, my email address is ransom@sixfifty.com. I can test whether my email address supports aliases by sending an email to "ransom+test@sixfifty.com." If it comes through, I can use aliases. If not, I can't. 
If you're using your work email address, you should contact your IT team to make sure they approve of you using email aliases. 
Create a password that only the people collaborating on the document know, and you can all work at your own pace. 
Filling Out a TPS Application
Answer questions about the applicant (whether that's you or someone you're helping), their family, and their immigration documents. Click "Read in Ukrainian" to see translations of questions and other helpful information.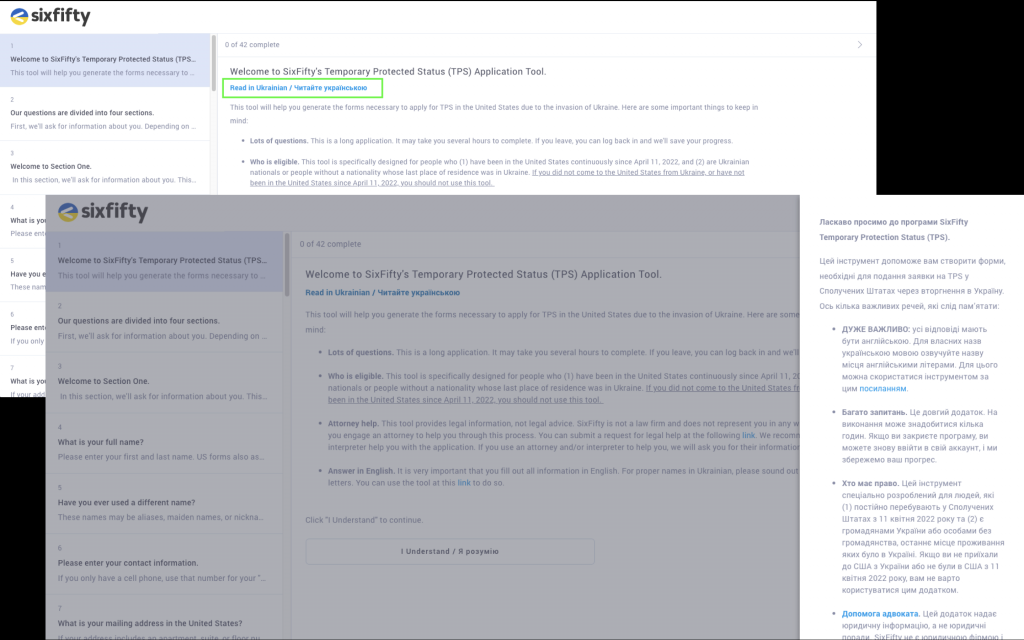 SixFifty splits these questions into sections, which makes it easier to use. 
First, we lay out the process—here's what's going to happen, here's what you need to know. For example, everything on the application needs to be in English. If applicants need help writing out Ukrainian words like address street names, we have a link that converts Cyrillic characters to latin. 
Next we help set expectations about how the questions are grouped. Maybe the applicant doesn't have all of their own information handy, but they can answer eligibility questions. This helps users plan out a strategy and be efficient. 
Questions about the applicant are in the next section. We ask for all the information that the US government requires, but nothing else. 
After we gather personal information, we cover eligibility. We'll ask about criminal history, immigration, and other factors the government uses to determine whether the applicant is eligible for TPS.  If the user answers "yes" to any of these questions, then the applicant and attorney should spend some extra time going through the application to ensure eligibility. 
After eligibility is work authorization. If the applicant wants to apply for work authorization, SixFifty will ask a few more questions and combine their answers with the information we already have from the TPS application questions. We include all the paperwork the applicant needs for their specific situation, and nothing they don't need. 
Last, SixFifty asks if anyone helped the applicant. If an attorney is helping them, choose "preparer." If they're also working with an interpreter, choose both "preparer" and "interpreter." We'll gather the required information for the helpers, and then email any additional forms and instructions. 
When all of the questions are answered, users will see a button that says "Generate." 
SixFifty emails the documents and instructions on what to do next. All files are in Microsoft Word format.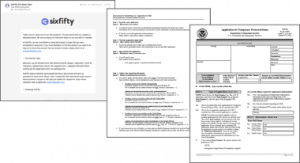 Advanced Collaboration
This option is for attorneys who plan to work with many clients, or want a more robust toolset. SixFifty can create a full account for you or your team. This is probably only the best option if you need to manage multiple documents for multiple applicants, and for some reason you can't use the aliases method described above. 
You can also assign questions to the applicant or another attorney. But more capabilities mean more complexity. We recommend using SixFifty.com/Ukraine first, and looking at this last option only if you need it. 
If you want to know more about this option, talk to your pro bono coordinator or whoever leads pro bono at your organization, and then email probono@sixfifty.com. 
Some advantages of a full SixFifty account include: 
Manage multiple document versions
Each client can have several document versions, if needed. 
Collaborate without sharing credentials
Add attorneys and clients to the same account, and they'll have their own usernames and passwords.
From one screen, see how many clients and documents have been created, as well as progress. 
Once SixFifty creates your account, follow the steps in this video to start creating application documents.
Benefits of using SixFifty
There are several ways to apply for TPS. SixFifty has many benefits, including:
Streamlined and easy to use
​​SixFifty's TPS tool is built for accessibility. It's streamlined and easy to use. We ask questions in plain English, and add explanations, links, and other helpful information. It's also up-to-date with changing rules. There's some confusion in the immigration law world about whether TPS applicants are required to file an "I-765" work authorization form, even if they don't want to apply for work authorization. But if you use SixFifty, you don't need to know those rules. SixFifty hard-wired them into the tool. We ask the applicant "do you want to apply for work authorization?" We explain what that is, and what's involved, and if they say yes then we generate a completed I-765 for them. If they say no, we don't. And every time rules change, we keep the tools updated. 
Not only do we translate from legalese into English, but also into Ukrainian. And it's culturally accurate Ukrainian. We worked with Ukrainians from all walks of life—those who had been in the US for years, and are fluent in our language and culture. As well as those who speak English fluently but get confused by uniquely American concepts. We worked with people who don't speak English, and people who fluently speak English, Ukrainian, and Legalese.
it's important to note that these translations can't replace a human for Ukrainians who don't speak English. If an applicant doesn't speak English then they will need an interpreter to go through the application with them and certify that they did so. Email probono@sixfifty.com for more information about affordable interpretation and translation services. 
Last, but definitely not least, SixFifty's tool is the easiest way to create an application that's eligible for a fee waiver. USCIS's online applications have come a long way, but applications submitted there are ineligible for fee waivers. And those fees can add up, especially if you're helping an entire family apply, and even more so if one or more family members are applying for work authorization. So if you're interested in applying for a fee waiver,  SixFifty is a great option.
Here to help
Going home isn't an option for Ukrainians right now. Tens of thousands of Ukrainians will need to apply for TPS over the next several months in order to stay in the U.S. Whether you're applying yourself, or helping someone else as a preparer or interpreter, please let us know anything we can do to help!