All over the United States, we've seen an uptick in remote work in recent years—and the COVID-19 pandemic kicked this trend into high gear. No longer are employers and employees as likely to be bound together by geographic location. Now, workers can move and keep their jobs, and employers are hiring out of state employees in Wisconsin.
But while more and more companies are open to hiring out-of-state employees in Wisconsin and all over the country, doing so comes with a catch: the need to comply with another state's employment laws and standards. No two states have identical standards in place, and failure to comply puts a company at risk for financial and legal penalties.
With this in mind, SixFifty has developed multistate employer registration tools to make the process of bringing on an out-of-state employee much easier. If you're getting ready to hire an out-of-state employee in Wisconsin, read on to learn about how the process works.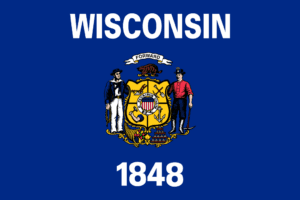 Scenario 1: Employee works from home in another state
Employees may want to move out of state for a variety of reasons. Whether it's to care for an aging parent, to enjoy a lower cost of living or to allow their partner to take a new position, remote work makes such a move a greater possibility than ever before. However, employers need to ensure they're compliant with the employment standards in place in their employees' new homes. Factors like minimum wage, overtime pay, time off policies and more can differ significantly from one state to another.
Scenario 2: Hiring out-of-state employees in Wisconsin
Maybe you've found a great candidate for an open position, but they live in Wisconsin. Thankfully, the increasingly widespread adoption of remote work makes this easier than it used to be. That said, if your business is preparing to hire an out-of-state employee in Wisconsin for the first time ever, there are some key steps you'll need to take to ensure you're in compliance with Wisconsin's employment laws and standards. Failure to do so could open your company up to legal and financial liability.
Multistate Employer Registration Factors to Consider
In both of the above scenarios, employers need to pursue multistate compliance or risk being held accountable by the Department of Labor for failing to comply with state-specific employment standards. Compliance differs across all 50 states. To simplify the process, SixFifty has narrowed down multistate employer registration considerations to five core areas of focus. 
Here's what it looks like for companies hiring out-of-state-employees in Wisconsin—or accommodating employees moving to Wisconsin if there's no established business nexus.
1. Wisconsin Employment Registration
The process of hiring an out-of-state employee in Wisconsin begins with obtaining a registered agent and registering your company with the Department of Financial Institutions. You'll also need to obtain a Certificate of Good Standing from your home state for Wisconsin's records. After reporting the new hire to the Department of Labor, you can register for unemployment and workers' compensation insurance.
Obtain a registered agent
Register to do business in Wisconsin
Report new hire to the Department of Labor 
Register for unemployment insurance
Report unemployment insurance account to payroll provider
Obtain workers' compensation coverage or update the policy
2. Wisconsin Tax Registration
As soon as you hire an employee who lives in Wisconsin, you have tax liabilities under Wisconsin state law. You'll need to establish an income tax withholding account through the state's One Stop Business Portal, and have your employee submit a completed form WT-4. Finally, your business will likely be required to collect and remit sales tax, so you'll have to register for a sales tax permit.
Register for income tax withholding account
Obtain the completed state income tax withholding form from the employee
Register for a sales tax license or permit
3. Wisconsin Employment Policies
Employee handbooks in Wisconsin need to include nine state-specific policies in order to achieve compliance with state-level employment standards. Some of these policies (civil air patrol leave, FMLA, organ and bone marrow donor leave) only apply to businesses with specific numbers of employees. Wisconsin also has meal and rest break policies that apply only to minors.
Review employee handbook for compliance
Update policies or add new leave policies as needed
4. Wisconsin Required Employment Policies (April 2023)
Civil Air Patrol Leave (11 Employees)
Election Official Leave
FMLA (50 Employees)
Jury Duty Leave 
Meal and Rest Breaks (minors only)
Organ and Bone Marrow Donor Leave (50 Employees)
Volunteer Firefighter, Emergency Medical Services Practitioner, Emergency Medical Responder, or Ambulance Driver Leave 
Voting Leave
Witness Duty Leave
5. Wisconsin Employment Implications
Not sure whether your company's insurance coverage can be extended to a new out-of-state employee in Wisconsin? Do once-monthly paychecks conform to Wisconsin law? You'll need answers to these and other questions before you distribute an employee handbook to your new worker—make sure your handbook is fully compliant with Wisconsin's standards or you'll risk legal and financial hassles.
Ensure non-compete provisions comply with Wisconsin law
Confirm the employee is paid at least the minimum wage
Review the applicable overtime laws
Confirm the payroll practices meet the payment frequency standards in Wisconsin
Consider whether insurance extends coverage to employees in Wisconsin
Consider COVID-19 laws that affect the employee
6. Wisconsin Signage
While Wisconsin doesn't have specific policies in place for posting signage for remote workers, the state requires 13 different signs be posted in physical workplaces. These cover a variety of subjects, ranging from minimum wage and policies for minor employees to employee rights under Wisconsin's business closing and mass layoff law. Some of these signs must also be posted in Spanish.
Post or distribute required signage
Simplify Multistate Compliance with SixFifty
The process of maintaining compliance can be complex and extremely nuanced for companies unfamiliar with Wisconsin employment laws and standards. It's why SixFifty has compiled an extremely useful tool for businesses hiring out-of-state employees in Wisconsin. To simplify the process of hiring out-of-state employees in Wisconsin or supporting remote employees on-the-move, check out our 50 State Hiring Kit.