The option of remote work has had an undeniable impact on how employers go about hiring workers, and on how employees think about their jobs. With both parties being virtually unlimited—in terms of where employees can work and where companies can hire—has created significant freedom and flexibility. Hiring out of state employees in South Carolina are suddenly no longer off the table.
But when an employee wants to move to South Carolina or you find a perfect new candidate who lives there, your company is faced with some new challenges. Since all states have their own standards and laws related to employment, you suddenly need to figure out how to comply with unfamiliar rules or face legal and financial penalties.
SixFifty has developed a multistate employer registration tool that removes the stress and confusion from this process. Below is an overview of how we can help make the hiring process easier and open the door for you to bring on strong candidates across the United States.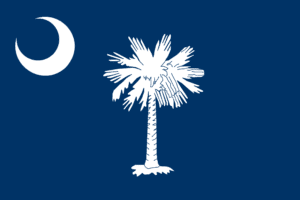 Scenario 1: Employee works from home in another state
It's not uncommon these days for people to decide to move out of state to better their life in some way or another. Perhaps they're moving for a new relationship, to see a new part of the country, to be closer to the outdoors—regardless, remote work makes this an easier possibility than ever before. If your current employee is planning a move to South Carolina, you'll need to ensure your business is registered there and compliant with the state's labor laws.
Scenario 2: Hiring out-of-state employees in South Carolina
The other great thing about remote work is that it allows you to hire out-of-state employees, not just accommodate existing employees who want to relocate. When preparing to bring on an out-of-state worker based in South Carolina, it's your job as an employer to ensure you've established an economic nexus in the state, as well as updated your employee handbook to account for the specific requirements of South Carolina employment law, which may differ from what you're used to.
Multistate Employer Registration Factors to Consider
In both of the above scenarios, employers need to pursue multistate compliance or risk being held accountable by the Department of Labor for failing to comply with state-specific employment standards. Compliance differs across all 50 states. To simplify the process, SixFifty has narrowed down multistate employer registration considerations to five core areas of focus. 
Here's what it looks like for companies hiring out-of-state-employees in South Carolina—or accommodating employees moving to South Carolina if there's no established business nexus.
1. South Carolina Employment Registration
Hiring an out-of-state employee in South Carolina involves many of the same steps as in most other states: obtaining a registered agent, registering your business with the South Carolina Secretary of State, reporting the new hire and securing workers' compensation and unemployment insurance. However, there's another critical step you'll need to take, which is running the new hire through E-Verify to confirm their legal status.
Obtain a registered agent
Register to do business in South Carolina
Report new hire to the Department of Labor 
E-Verify the legal status of all new hires
Register for unemployment insurance
Report unemployment insurance account to payroll provider
Obtain workers' compensation coverage or update the policy
2. South Carolina Tax Registration
Complying with South Carolina tax laws is a key part of doing business in the state. Begin by registering with the Department of Revenue for an income tax withholding account, and make sure you get your employee to complete a W-4. You'll also need to register for a sales tax permit so you can collect and remit sales tax payments to the state.
Register for income tax withholding account
Obtain the completed state income tax withholding form from the employee
Register for a sales tax license or permit
3. South Carolina Employment Policies
South Carolina has a short list of required employment policies, including jury duty leave and witness duty leave, as well as a bone marrow leave policy that kicks in if you have 20 employees who live in the state. Update or add to your employee handbook to ensure your South Carolina employees are informed of these benefits and policies.
Review employee handbook for compliance
Update policies or add new leave policies as needed
4. South Carolina Required Employment Policies (April 2023)
Bone Marrow Leave (20 Employees)
Handbook Acknowledgement (1st page)
Jury Duty Leave 
Witness Duty Leave
5. South Carolina Employment Implications
When hiring an out-of-state employee in South Carolina, there are numerous employment policies your company will have to comply with to ensure your employee is being properly treated. These range from minimum wage, overtime and other payroll policies to matters like insurance coverage, COVID-19 regulations and more. All of these policies will need to be outlined in your employee handbook and revised to comply with South Carolina's standards.
Ensure non-compete provisions comply with South Carolina law
Confirm the employee is paid at least the minimum wage
Review the applicable overtime laws
Confirm the payroll practices meet the payment frequency standards in South Carolina
Consider whether insurance extends coverage to employees in South Carolina
Consider COVID-19 laws that affect the employee
6. South Carolina Signage
South Carolina requires employers to post anti-discrimination, workers' compensation, safety and health, payment of wages, child labor and right-to-work signage for employees to access. They haven't established requirements surrounding signage for remote workers, but your company can refer to the U.S. Department of Labor's recommendations regarding electronic posting to ensure your remote employees are kept well informed.
Post or distribute required signage
Simplify Multistate Compliance with SixFifty
The process of maintaining compliance can be complex and extremely nuanced for companies unfamiliar with South Carolina employment laws and standards. It's why SixFifty has compiled an extremely useful tool for businesses hiring out-of-state employees in South Carolina. To simplify the process of hiring out-of-state employees in South Carolina or supporting remote employees on-the-move, check out our 50 State Hiring Kit.