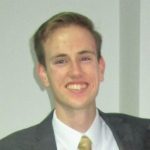 Articles By Connor Christensen
Connor has a curious and creative mind that helps him create innovative solutions to legal problems at SixFifty. Working for SixFifty right out of law school has helped him stay nimble and tackle any area of law that is thrown his way.
Education and Experience
Connor is still young enough that he can brag about his high school. Oxford Academy was ranked the number 1 public school in California while Connor attended. During high school, Connor was a member of both the symphonic orchestra and the academic decathlon team. As a decathlete (yes that is the technical term) Connor found a passion for the dismal science of economics.
Connor attended Brigham Young University where he received a Bachelor of Science in Economics. Serendipitously, economics is the shortest major at BYU; Connor received his degree with only four semesters of on-campus study. During his university years, Connor also served an ecclesiastical mission in the countries of Romania and Moldova, where he learned to speak Romanian and taught English courses.
Although his field of study unfolded from dismal to dreary when Connor began attending J. Reuben Clark Law School, he was having the time of his life. Just as in his academic decathlon days, Connor had access to a wide variety of topics, and he capitalized on that by selecting courses in immigration, election, employment, and federal Indian law. Due to a bug in the school's registration system, Connor picked a course called Law X on a whim. This legal clinic set out to simplify the asylum application process using the innovative technology provided by the course's sponsor, SixFifty. Connor worked closely with his classmates and his professors, Kimball Parker and Marie Kulbeth. Connor could not have anticipated it, but after a global pandemic set back the California bar exam twice, his old professor Kimball Parker would reach out to him about working with SixFifty full-time.
Achievements with SixFifty
Connor's first project at SixFifty was also its most complicated and ambitious project at the time. Connor enjoyed the challenge of creating an employee handbook that covers all 50 states and has the complexity needed for a wide range of companies. Creating the handbook would require pushing technical boundaries at SixFifty, but this type of work has become Connor's specialty. As SixFifty has grown and expanded, Connor has become the designated tour guide for those diving into the depths of SixFifty's technological solutions.
Connor writes help articles for the frequent updates to the employee handbook and SixFifty's Covid-19 solutions. Russia's invasion of Ukraine has given Connor the opportunity to bring the asylum project that he and his classmates started in 2020 to fruition. The variety of legal courses Connor took in law school is coming in handy as he has helped to build technological solutions for various areas of the law.
Get to Know Connor
Connor is an avid rock climber and primarily focuses on bouldering. Although he is predominantly a gym rat, he can be found out on the crag on a nice weekend. Connor is also an accomplished baker, having baked the best cake of someone's life already. Connor's more nerdy pursuits include playing Dungeons and Dragons and competing in Super Smash Bros. Melee (2001) for the Nintendo GameCube. He plays Princess Peach.
TL;DR – "This is fun!" -Princess Peach
Bar Licensed
California