Thanks to the possibilities offered by remote work, employers and employees alike have a lot more freedom and flexibility these days, not least in terms of location. No longer is it necessary for workers to live close enough to commute to the office every day. Still, there are challenges that come along with hiring out of state employees in Pennsylvania that may cause companies to miss out on strong candidates because they worry about failing to comply with the applicable state laws.
Fortunately, you don't have to become an expert in employment law. With SixFifty's multistate employer registration tool, you gain access to the documents you need to establish your business as an employer in any state in which you hire an out-of-state employee.
Whether you need to learn about how to establish an economic nexus in Pennsylvania or update your employee handbook to meet the state's standards, our tool can help. Here's a closer look at how it works.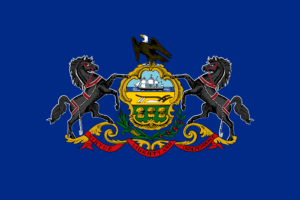 Scenario 1: Employee works from home in another state
Not that long ago, it was standard practice for a job search to accompany a move to another state. However, this is no longer the case: remote work makes it easy to move for a partner's job opportunity, to take care of aging parents or for any other reason, while still keeping your existing job. In this situation, employers have to take steps to ensure they're in compliance with employment law in your new state.
Scenario 2: Hiring out-of-state employees in Pennsylvania
Alternatively, your business may be prepared to hire an out-of-state worker who lives in Pennsylvania. This will help you establish an economic nexus there, but you'll still need to complete some other key steps, like registering your business, establishing tax accounts and updating your employee handbook to reflect policies that are consistent with Pennsylvania's employment standards. It's your responsibility as an employer to ensure your company is compliant with the standards of each state in which you have employees.
Multistate Employer Registration Factors to Consider
In both of the above scenarios, employers need to pursue multistate compliance or risk being held accountable by the Department of Labor for failing to comply with state-specific employment standards. Compliance differs across all 50 states. To simplify the process, SixFifty has narrowed down multistate employer registration considerations to five core areas of focus. 
Here's what it looks like for companies hiring out-of-state-employees in Pennsylvania—or accommodating employees moving to Pennsylvania if there's no established business nexus.
1. Pennsylvania Employment Registration
Getting your business established in Pennsylvania begins with registering your company and reporting your new hire to the state's Department of Labor. You'll also need to obtain unemployment insurance and workers' compensation coverage. Completing these processes will establish an economic nexus for your business in Pennsylvania, which will allow you to operate.
Register to do business in Pennsylvania
Report new hire to the Department of Labor 
Register for unemployment insurance
Report unemployment insurance account to payroll provider
Obtain workers' compensation coverage or update the policy
2. Pennsylvania Tax Registration
In Pennsylvania, you'll need to register for an income tax withholding account through the Pennsylvania Department of Revenue. Having an employee in Pennsylvania obligates your business to collect and remit sales tax to the state, although there may be exceptions depending on the nature of your business. Some items are exempt from sales tax, including food, clothing and more.
Register for income tax withholding account
Register for a sales tax license or permit
3. Pennsylvania Employment Policies
In Pennsylvania, employees are required to provide eight benefits not already covered by federal policies, ranging from crime victim leave and jury duty leave to paid sick leave and volunteer emergency response leave. You'll have to update or add to your employee handbook as necessary to account for these requirements.
Review employee handbook for compliance
Update policies or add new leave policies as needed
4. Pennsylvania Required Employment Policies (April 2023)
Crime Victim Leave
Domestic Violence Leave (Philadelphia) (50 Employees)
Jury Duty Leave 
Meal and Rest Breaks (minors only)
Organ and Bone Marrow Donor Leave
Paid Sick Leave (for Philadelphia (10 Employees) and Pittsburgh)
Paid Time Off
Volunteer Emergency Response Leave
Witness Duty Leave
5. Pennsylvania Employment Implications
Pennsylvania's rules regarding payroll, overtime, minimum wage and other factors are likely to differ from those in your home state, even if only slightly. When it comes to these policies, you'll want to ensure your business is compliant with Pennsylvania law to avoid the legal and financial penalties associated with non-compliance.
Ensure non-compete provisions comply with Pennsylvania law
Confirm the employee is paid at least the minimum wage
Review the applicable overtime laws
Confirm the payroll practices meet the payment frequency standards in Pennsylvania
Consider whether insurance extends coverage to employees in Pennsylvania
Consider COVID-19 laws that affect the employee
6. Pennsylvania Signage
Pennsylvania requires nine different signs be posted in physical workplaces, although it hasn't outlined a specific policy for conveying this information to remote workers. The U.S. Department of Labor's suggestions can be used to guide your approach to electronic posting. Some of these signs also need to be provided in Spanish, as well as English.
Post or distribute required signage
Simplify Multistate Compliance with SixFifty
The process of maintaining compliance can be complex and extremely nuanced for companies unfamiliar with Pennsylvania employment laws and standards. It's why SixFifty has compiled an extremely useful tool for businesses hiring out-of-state employees in Pennsylvania. To simplify the process of hiring out-of-state employees in Pennsylvania or supporting remote employees on-the-move, check out our 50 State Hiring Kit.