As remote work has become normalized in recent years, it's opened up opportunities for businesses and workers alike to reevaluate how they approach hiring out of state employees in Nebraska. Gone are the days when companies were limited to searching for candidates in their own vicinity or who were actively looking to relocate, and the same is true for workers who are now free to search for remote work anywhere they like.
With this rise in remote work opportunities, however, comes a challenge for employers: ensuring multistate compliance with employment standards. The law differs from state to state, and what you're used to doing in your company's home state when you bring on new employees may not be exactly what's required when hiring an out-of-state employee who's based in Nebraska.
The consequences of failing to comply with applicable employment laws can be quite serious, which is why SixFifty has developed a multistate employer compliance tool your company can use to make sure you've covered your bases. Let's take a closer look at how we can help.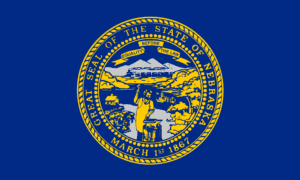 Scenario 1: Employee works from home in another state
Perhaps your business is located in California, and in the past, employees who've moved out of state have also switched jobs. But now, with a remote work option, one of your team members is moving to Nebraska. Your company doesn't have a physical presence there, and you're unfamiliar with Nebraska employment law. You'll have to first register your business in Nebraska, then make sure all the policies that apply to your employee—regarding paid time off, insurance, etc.—are compliant with Nebraska law.
Scenario 2: Hiring out-of-state employees in Nebraska
Another common scenario is one in which someone applies to a remote job with your company, but they live in a state like Nebraska in which you haven't previously had a presence. Are your policies regarding minimum wage, overtime, workers' compensation and other matters in line with Nebraska law? You likely don't know, and you'll need to find out to ensure your company is operating within the requirements that apply to your new employee.
Multistate Employer Registration Factors to Consider
In both of the above scenarios, employers need to pursue multistate compliance or risk being held accountable by the Department of Labor for failing to comply with state-specific employment standards. Compliance differs across all 50 states. To simplify the process, SixFifty has narrowed down multistate employer registration considerations to five core areas of focus. 
Here's what it looks like for companies hiring out-of-state-employees in Nebraska—or accommodating employees moving to Nebraska if there's no established business nexus.
1. Nebraska Employment Registration
Your first order of business is to create an economic nexus between your company and the state of Nebraska. Before you hire a new employee, you'll have to register and obtain a certificate of authority to conduct business in the state. Within 20 days of hiring your new employee, you'll need to report the hire to the state's Directory of New Hires, then ensure your insurance coverage is compliant with Nebraska standards.
Obtain a registered agent
Obtain a certificate of authority in Nebraska
Report new hire to the Nebraska Directory of New Hires 
Register for unemployment insurance
Report unemployment insurance account to payroll provider
Obtain workers' compensation coverage or update the policy
2. Nebraska Tax Registration
When you hire a Nebraska employee, you'll also have to take some steps to get your company in compliance with the state's tax laws. This isn't especially complicated, but SixFifty's multistate employer compliance tool offers a way to simplify the process and ensure you're taking the right steps to establish a withholding account for your employee and register for a sales tax license.
Register for income tax withholding account
Obtain the completed state income tax withholding form from the employee
Register for a sales tax license or permit
3. Nebraska Employment Policies
As an employer, it's your job to outline policies for your employees that are in line with applicable state laws. Because these laws differ from state to state, the employee handbook you distribute to your in-state employees may not be consistent with what's required for your Nebraska employee. You'll need to investigate and update the handbook as necessary.
Review employee handbook for compliance
Update policies or add new leave policies as needed
4. Nebraska Required Employment Policies (May 2023)
Crime Victim Leave
Election Worker Leave
Jury Duty Leave 
Meal and Rest Breaks (for certain industries)
Military Service Leave (15 Employees)
Volunteer Emergency Responder Leave
Voting Leave
Whistleblower (15 Employees)
Witness Duty Leave
5. Nebraska Employment Implications
The implications of employment in Nebraska are nuanced, and while the difference between Nebraska standards and those of your home state may seem minimal, the implications of those distinctions can be substantial if you inadvertently run afoul of the law. It's best to identify, understand and account for these things before your company finds itself in legal hot water.
Ensure non-compete provisions comply with Nebraska law
Confirm the employee is paid at least the minimum wage
Review the applicable overtime laws
Confirm the payroll practices meet the payment frequency standards in Nebraska
Consider whether insurance extends coverage to employees in Nebraska
Consider COVID-19 laws that affect the employee
6. Nebraska Signage
While it may seem strange to think about workplace signage in the context of remote employees, employers are still responsible for ensuring critical information gets communicated to their workers. The minimum wage, non-discrimination and unemployment insurance information, for example, that would typically be posted in a physical workplace is still relevant to remote employees. While Nebraska hasn't outlined a specific policy for providing this information, employers can refer to the guidelines provided by the U.S. Department of Labor.
Post or distribute required signage
Simplify Multistate Compliance with SixFifty
The process of maintaining compliance can be complex and extremely nuanced for companies unfamiliar with Nebraska employment laws and standards. It's why SixFifty has compiled an extremely useful tool for businesses hiring out-of-state employees in Nebraska. To simplify the process of hiring out-of-state employees in Nebraska or supporting remote employees on-the-move, check out our 50 State Hiring Kit.