Remote work offers companies and employees significantly more flexibility in work and hiring out of state employees in Michigan. We're no longer limited by geography. Technology makes it easy to collaborate across the entire county. However, the complex issues that arise with out-of-state employees can be a barrier to nationwide hiring practices—and failure to comply can result in large fines and fees.
Rather than researching employment laws in every new state, SixFifty has developed a multistate employer registration tool. From establishing your economic nexus to updating your employee handbook, we do the heavy lifting for you and simplify the process. You'll soon have the ability hire employees across the country, all while staying fully compliant with each new set of standards. 
Here's an overview of what it's like to hire or retain employees in Michigan, and how SixFifty's solutions can make it possible.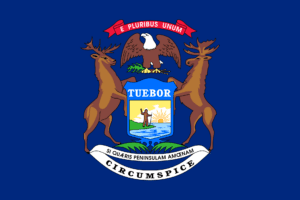 Scenario 1: Employee works from home in another state
When employees have to move out of state, it used to mean that they'd need to look for a new job. The advent of remote work has made it easier for workers to move away, whether that's to support a partner's new job, be closer to family, find affordable housing and more. Instead of starting a new employee search, companies can retain their top talent—as long as they're compliant with Michigan's employment laws.
Scenario 2: Hiring out-of-state employees in Michigan
Alternatively, employers might wish to expand their talent search nationwide. Even if your company is located in Georgia, any new employees living in Michigan are subject to Michigan's state employment laws. If you don't already have an economic nexus in Michigan, you're required to register your business with the state, pay appropriate taxes, and comply with all of Michigan's employment laws. This can be a daunting prospect to smaller businesses.
Multistate Employer Registration Factors to Consider
Failing to comply with each state's employment laws and standards is a fast way to get attention from the Department of Labor. Employment laws and standards vary in each state. That's one reason employers are hesitant to hire out-of-state employees, even when they're the best fit for the job. SixFifty's goal is to simplify the process, through five core areas of focus. Our state-specific employment tools ensure that you're compliant, without having to devote your time to research.
1. Michigan Employment Registration
Companies must register to do business in Michigan, unless you've already established an economic nexus in the state. Employers must file for a certificate of authority, register with the Michigan Division of Corporations, Business and Professional Licensing as a Foreign Corporation, and register for insurance and workers' compensation policies.
Obtain a registered agent
Register to do business in Michigan
Report new hire to the Michigan New Hire Operation Center
Register for unemployment insurance
Report unemployment insurance account to payroll provider
Obtain workers' compensation coverage or update the policy
2. Michigan Tax Registration
Next, you'll need to comply with state tax laws. Even if your business is located in another state, you're required to pay taxes to Michigan. Your employee's presence in the state establishes a physical presence, which is all the state requires for taxation purposes. Employers must register for a tax withholding account, register for a sales tax license and complete required paperwork for tax withholding.
Register for income tax withholding account
Obtain the completed state income tax withholding form from the employee
Register for a sales tax license or permit
3. Michigan Employment Policies
While the federal government establishes certain employment laws that apply to every worker in the nation, Michigan requires seven additional policies. Employers need to ensure that their handbook policies are compliant with Michigan standards, which may be different from those in your home state.
Review employee handbook for compliance
Update policies or add new leave policies as needed
4. Michigan Required Employment Policies (May 2023)
Civil Air Patrol Leave 
Crime Victim Leave
Domestic Violence Leave (50 Employees)
Jury Duty Leave 
Meal and Rest Breaks (minors only)
Paid Sick Leave (50 Employees)
Paid Time Off
Whistleblower
5. Michigan Employment Implications
Michigan's minimum wage, non-compete laws, overtime and payroll practices may vary from your own state's policies. Employers need to review their employment documents to ensure that they don't conflict with Michigan laws. For example, Michigan's laws may not allow certain types of non-compete provisions.
Ensure non-compete provisions comply with Michigan law
Confirm the employee is paid at least the minimum wage
Review the applicable overtime laws
Confirm the payroll practices meet the payment frequency standards in Michigan
Consider whether insurance extends coverage to employees in Michigan
Consider COVID-19 laws that affect the employee
6. Michigan Signage
Finally, all employers are required to post or distribute employment-related signage. Michigan requires employers to make seven different signs available to employees, even if they work from home. The state hasn't determined how to do this for exclusively remote workers. Generally, making the signs available on the company website or in an easily accessible web folder can satisfy this requirement.
Post or distribute required signage
Simplify Multistate Compliance with SixFifty
The process of maintaining compliance can be complex and extremely nuanced for companies unfamiliar with Michigan employment laws and standards. It's why SixFifty has compiled an extremely useful tool for businesses hiring out-of-state employees in Michigan. To simplify the process of hiring out-of-state employees in Michigan or supporting remote employees on-the-move, check out our 50 State Hiring Kit.