While it might've started with the pandemic, remote work has become nothing short of the new norm for businesses across the country and around the world. Hiring out of state employees in Louisiana has benefits on both sides, for employees and employers alike. From reduced overhead to improved employee morale, remote work is here to stay. The question is, are you staying compliant in this new landscape?
Employer compliance standards are a critical consideration in the new remote work landscape. If you're hiring employees from Louisiana, for example, you'll need to make sure you meet the state's unique standards for hiring and employing residents. Failing to consider each state's unique employment guidelines can mean putting yourself in a liability position as an employer. 
Whether you're hiring from a new state or your employees are relocating beyond your local area of operation, put compliance considerations at the top of your list. The simplest way to stay abreast of each state's unique considerations is to use SixFifty's hiring guide for out-of-state employees.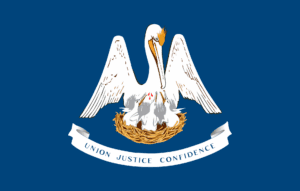 Scenario 1: Employee works from home in another state
This is a scenario that's becoming more and more common as employees become nomadic. If your current employees are relocating to Louisiana, it's important to make sure you're registering with the state as an employer. That means understanding the Bayou State's employer registration process, employment compliance standards and other labor considerations. Even if it's just a single employee, your business needs to ensure it meets the state's standards for registration, tax, hiring, employment and even workplace signage. 
Scenario 2: Hiring out-of-state employees in Louisiana
Even if your business doesn't have a physical presence in Louisiana, you can still prospect talent from major cities like Baton Rouge, New Orleans, Shreveport and Lafayette. If you're hiring out-of-state employees in Louisiana, it's important to stablish an economic nexus and make sure your hiring and employment policies and practices comply with the state's regulatory standards. This can be tricky, since Louisiana's standards differ from virtually every other state.
Multistate Employer Registration Factors to Consider
In both of the above scenarios, employers need to pursue multistate compliance or risk being held accountable by the Department of Labor for failing to comply with state-specific employment standards. Compliance differs across all 50 states. To simplify the process, SixFifty has narrowed down multistate employer registration considerations to five core areas of focus. 
Here's what it looks like for companies hiring out-of-state-employees in Louisiana—or accommodating employees moving to Louisiana if there's no established business nexus.
1. Louisiana Employment Registration
Need to establish your business as a qualified employer in the State of Louisiana? The process can be complex, and you'll need to follow specific instructions to maintain compliance with state employment authorities. From registering with the Louisiana Secretary of State as a Foreign Corporation to submitting the appropriate employment information, companies need to approach employment registration with a keen eye for detail. 
Obtain a registered agent
Register to do business in Louisiana
Report new hire to the Louisiana Department of Children and Family Services
Register for unemployment insurance
Report unemployment insurance account to payroll provider
Obtain workers' compensation coverage or update the policy
2. Louisiana Tax Registration
Expect to apply for a Revenue Account Number with LaTAP and make sure your employees are filling out the appropriate income tax withholding documents. You'll also want to make sure you're set up to document income tax appropriately, and to report withholdings to state authorities through the correct channels. 
Register for income tax withholding account
Obtain the completed state income tax withholding form from the employee
Register for a sales tax license or permit
3. Louisiana Employment Policies
Louisiana, like every state, has specific compliance standards for leave policies, wages and payments, insurance specifications and more. It's vital for employers hiring out-of-state employees in Louisiana to get familiar with these state-specific standards, and to build them into employee handbooks and hiring practices.  
Review employee handbook for compliance
Update policies or add new leave policies as needed
4. Louisiana Required Employment Policies (May 2023)
Meal and Rest Breaks (minors only)
Pregnancy Leave (25 Employees) (Parental Leave)
Bone Marrow Donor Leave (20 Employees)
Jury Duty Leave 
Volunteer First Responder Leave
School and Day Care Conference and Activities Leave
Whistleblower
5. Louisiana Employment Implications
From non-complete and non-disclosure agreements to minimum wage and overtime laws, employers need to act knowledgeably when it comes to adhering to state-specific employment implications. This includes COVID-19 policies and other situational or environmental employment standards that might apply. 
Ensure non-compete provisions comply with Louisiana law
Confirm the employee is paid at least the minimum wage
Review the applicable overtime laws
Confirm the payroll practices meet the payment frequency standards in Louisiana
Consider whether insurance extends coverage to employees in Louisiana
Consider COVID-19 laws that affect the employee
6. Louisiana Signage
While most remote companies won't maintain a workplace in Louisiana, it's still important to ensure that workplace information is readily accessible to new employees. This includes state-specific mandates, such as information about non-discrimination policies, child labor laws, unemployment insurance, timely payment of wages and any of more than a dozen Louisiana-mandated workplace information policies. 
Post or distribute required signage
Simplify Multistate Compliance with SixFifty
The process of maintaining compliance can be complex and extremely nuanced for companies unfamiliar with Louisiana employment laws and standards. It's why SixFifty has compiled an extremely useful tool for businesses hiring out-of-state employees in Louisiana. To simplify the process of hiring out-of-state employees in Louisiana or supporting remote employees on-the-move, check out our 50 State Hiring Kit.