Today, remote work is the new norm for many companies. Hiring out of state employees in Kentucky means a broader talent pool for employers to draw from. You're no longer confined to hiring workers in the same city or regional area—now, you can hire employees regardless of where they reside. And while this is a huge benefit for employees and employers alike, it's not without a few obstacles. 
Hiring out-of-state employees puts employers in a position to worry about multistate employer registration. That is, if your employees reside in a state like Kentucky where your business doesn't, you'll need to make sure you're meeting state-level employment standards. It's a prospect made difficult by the fact that virtually every state has its own processes, standards and expectations. 
SixFifty understands the struggle of achieving and maintaining multistate employer compliance. It's why we've created a tool specifically designed to simplify the process, no matter how many states your distributed workforce operates in. Here's how.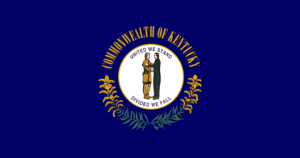 Scenario 1: Employee works from home in another state
Let's say that your business is headquartered in New Jersey, and that's where your employees have always lived. Now, as you shift to a remote culture, one of your employees decides to move to Kentucky to be closer to family. Even though you don't have any physical presence in Kentucky, you'll need to register with the state as an employer. Not only that, you'll need to make sure you're meeting Kentucky's state-level employment compliance standards for that employee.
Scenario 2: Hiring out-of-state employees in Kentucky
With the entire country open to you, it's now possible to hire beyond state borders. For example, your New Jersey business can hire someone who lives in Kentucky, without ever needing them to leave the state. In doing so, you'll need to make sure you're establishing a business nexus in Kentucky, and meeting the state's standards for employment—everything from minimum wage requirements to workers' rights parameters. And, more likely than not, these standards will differ from what your company is currently familiar with. 
Multistate Employer Registration Factors to Consider
In both of the above scenarios, employers need to pursue multistate compliance or risk being held accountable by the Department of Labor for failing to comply with state-specific employment standards. Compliance differs across all 50 states. To simplify the process, SixFifty has narrowed down multistate employer registration considerations to five core areas of focus. 
Here's what it looks like for companies hiring out-of-state-employees in Kentucky—or accommodating employees moving to Kentucky if there's no established business nexus.
1. Kentucky Employment Registration
Before you can hire out-of-state employees in Kentucky, you'll need to create an economic nexus. That means filing a certificate of authority and registering with the Kentucky Secretary of State before you can commence hiring. While Kentucky makes it relatively easy to get set up as a registered employer, it's still important that you know the exact steps involved in staying compliant. 
Obtain a registered agent
Register to do business in Kentucky
Report new hire to the Department of Labor 
Register for unemployment insurance
Report unemployment insurance account to payroll provider
Obtain workers' compensation coverage or update the policy
2. Kentucky Tax Registration
Employing Kentucky residents means you'll need to establish the appropriate channels for tax compliance, including withholding standards and state income tax reporting. For starters, Kentucky employers must create a KOG account to receive a Withholding Account Number. From there, you'll need to get your employees onboarded correctly to ensure tax compliance. 
Register for income tax withholding account
Obtain the completed state income tax withholding form from the employee
Register for a sales tax license or permit
3. Kentucky Employment Policies
Employment policies differ from state-to-state, which means making sure you're following Kentucky's specific standards. That includes updating your employee handbook to detail employment benefits, time off exemptions, leave policies and more. This is one of the most crucial steps in maintaining compliance as an employer. 
Review employee handbook for compliance
Update policies or add new leave policies as needed
4. Kentucky Required Employment Policies (May 2023)
Adoption Leave (Parental Leave)
Jury Duty Leave
Meal and Rest Breaks
Pregnancy Leave
Volunteer Emergency Service Provider Leave
Voting Leave
Witness Duty Leave
5. Kentucky Employment Implications
Are you paying your Kentucky employees according to minimum wage standards? What's the policy on overtime pay? What unemployment insurance stipulations do you need to familiarize yourself with? Make sure you're on top of these important nuances before they become situations you need to navigate. 
Ensure non-compete provisions comply with Kentucky law
Confirm the employee is paid at least the minimum wage
Review the applicable overtime laws
Confirm the payroll practices meet the payment frequency standards in Kentucky
Consider whether insurance extends coverage to employees in Kentucky
Consider COVID-19 laws that affect the employee
6. Kentucky Signage
Workplace signage is yet another aspect of employment compliance standards businesses should be aware of. Even if you're only a remote employer, there are criteria for making workplace signage and relevant information available to Kentucky employees. From labor laws and fair wages to health and safety standards, don't overlook the role of workplace signage when establishing yourself as a qualified employer.  
Post or distribute required signage
Simplify Multistate Compliance with SixFifty
The process of maintaining compliance can be complex and extremely nuanced for companies unfamiliar with Kentucky employment laws and standards. It's why SixFifty has compiled an extremely useful tool for businesses hiring out-of-state employees in Kentucky. To simplify the process of hiring out-of-state employees in Kentucky or supporting remote employees on-the-move, check out our 50 State Hiring Kit.