The combined effects of the COVID-19 pandemic and rapid advancements in technology have yielded an employment landscape that's far more hospitable to remote work than ever before. No longer are employees tied to their employers' home state, and no longer are employers limited in where they can look for their next great hire, including hiring out of state employees in Kansas.
But with this big change comes a challenge for companies: as they find themselves hiring employees in new states, they suddenly have a new set of employment laws and policies to contend with. Because employment law varies in its particulars from state to state, it can quickly become overwhelming for a Texas company, say, to try and figure out how to comply with the standards of a state like Kansas.
This is where SixFifty comes in. Our multistate compliance tool makes it easier for employers to ensure they're taking the right steps when hiring employees in new states. Let's take a look at how we can help you bring on a new Kansas employee.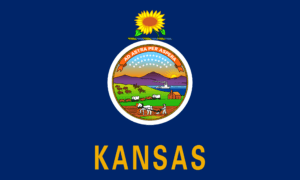 Scenario 1: Employee works from home in another state
A common scenario these days is one which an employee takes the opportunity presented by remote work to move to a different state, whether to enjoy lower cost of living, to buy a larger house, to care for aging parents or just to get a change of scenery. Regardless of the reason, their employer has to get familiar with Kansas employment law and standards to achieve compliance and best serve their employee. Given the complexity of the subject, this can be easier said than done.
Scenario 2: Hiring out-of-state employees in Kansas
Employers may also find themselves in a position where, because they can expand their geographic search area for new employees, they want to hire a person who lives in Kansas. But if they don't already have employees in Kansas, what are the implications of doing so? The employer needs to establish a business nexus and get up to speed on the policies that apply to Kansas employees in order to ensure their compliance with state laws pertaining to employment, taxation, leave and other policies.
Multistate Employer Registration Factors to Consider
In both of the above scenarios, employers need to pursue multistate compliance or risk being held accountable by the Department of Labor for failing to comply with state-specific employment standards. Compliance differs across all 50 states. To simplify the process, SixFifty has narrowed down multistate employer registration considerations to five core areas of focus.
Here's what it looks like for companies hiring out-of-state-employees in Kansas—or accommodating employees moving to Kansas if there's no established business nexus.
1. Kansas Employment Registration
The process of bringing on an employee in Kansas for the first time begins with registering as a business in Kansas. This needs to happen before you start conducting business. You'll also need to report your new hire to the Kansas Department of Labor, register for unemployment insurance and make sure your workers' compensation coverage extends to the new employee.
Obtain a registered agent
Register to do business in Kansas
Report new hire to the Department of Labor
Register for unemployment insurance
Report unemployment insurance account to payroll provider
Obtain workers' compensation coverage or update the policy
2. Kansas Tax Registration
Taxation is a key element of doing business anywhere, and it's important to ensure compliance with Kansas tax laws so you don't risk failing to pay and wind up with a surprise tax bill. You'll first need to register for an income tax withholding account, then get the appropriate documentation from the employee. Depending on the size and type of business, you may also be responsible for collecting and paying sales tax, which requires a separate license or permit.
Register for income tax withholding account
Obtain the completed state income tax withholding form from the employee
Register for a sales tax license or permit
3. Kansas Employment Policies
Your existing employee handbook needs to be reviewed and updated anytime you hire an employee in a new state, and Kansas is no exception. There are some specific benefits Kansas law mandates for employees, such as crime victim leave, domestic violence leave, voting leave and more, some of which may not be required in your company's home state.
Review employee handbook for compliance
Update policies or add new leave policies as needed
4. Kansas Required Employment Policies (May 2023)
Crime Victim Leave
Domestic Violence Leave
Jury Duty Leave
Military Service Leave
Parental Leave
Pregnancy Leave (4 Employees) (Parental Leave)
Voting Leave
5. Kansas Employment Implications
Unsure about all the employment implications involved with hiring a new employee in Kansas? SixFifty can help. Our tools make it easy to ensure your payroll, non-compete, overtime and insurance policies are in line with Kansas employment law. This protects your business and ensures your employee has accurate and up-to-date information regarding the terms of their employment.
Ensure non-compete provisions comply with Kansas law
Confirm the employee is paid at least the minimum wage
Review the applicable overtime laws
Confirm the payroll practices meet the payment frequency standards in Kansas
Consider whether insurance extends coverage to employees in Kansas
Consider COVID-19 laws that affect the employee
6. Kansas Signage
While physical workplaces in Kansas are required to post signage about a number of topics, ranging from unemployment insurance and workers' compensation to federal Equal Employment Opportunity law, the Fair Housing Act and more—sometimes in both English and Spanish—no similar rules have been outlined for conveying this important information to remote workers. Instead, employers should consider using the electronic posting standards outlined by the United States Department of Labor.
Post or distribute required signage
Simplify Multistate Compliance with SixFifty
The process of maintaining compliance can be complex and extremely nuanced for companies unfamiliar with Kansas employment laws and standards. It's why SixFifty has compiled an extremely useful tool for businesses hiring out-of-state employees in Kansas. To simplify the process of hiring out-of-state employees in Kansas or supporting remote employees on-the-move, check out our 50 State Hiring Kit.