With remote work here to stay thanks to its popularity with both workers and employers, it's important for companies to understand what they're getting into when they begin the process of hiring out of state employees in Iowa. Employment law differs from state to state, sometimes in surprisingly substantial ways, and you don't want to find your company running afoul of the law because you made an incorrect assumption.
If you're bringing on a new employee in Iowa, but don't already have a business nexus there, how do you go about establishing your company in the state? What tax considerations do you need to take into account? What policies need to be outlined in your employee handbook, and how do Iowa's laws and standards differ from those in the state in which your company is based?
SixFifty can help you find the answers to these and other questions you'll have when hiring your first out-of-state employee in Iowa. Read on to learn more about some of the factors you'll need to be aware of, and how our multistate tools can make the process easier.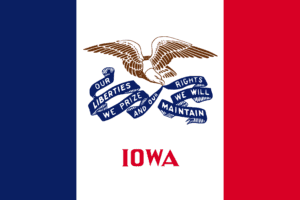 Scenario 1: Employee works from home in another state
As more and more workers explore opportunities to move while working remotely, you may find one of your employees choosing to move to Iowa. In order to best support your employee and ensure your company's compliance with all applicable laws, you'll need to register your business in Iowa. Keep in mind that Iowa employment laws will apply to your out-of-state employee, so you'll have to look into the tax, employment and policy standards in the state to remain compliant.
Scenario 2: Hiring out-of-state employees in Iowa
The rise of technology and remote work also makes it possible to expand your hiring into new states. The same concerns outlined above apply to hiring new employees who live in Iowa. You'll have to establish a business nexus there, make sure your employee handbook reflects the legal realities that apply to Iowa employees, collect and pay state sales tax and more. It's a lot to keep track of—and thankfully, SixFifty's multistate compliance tool can help.
Multistate Employer Registration Factors to Consider
In both of the above scenarios, employers need to pursue multistate compliance or risk being held accountable by the Department of Labor for failing to comply with state-specific employment standards. Compliance differs across all 50 states. To simplify the process, SixFifty has narrowed down multistate employer registration considerations to five core areas of focus. 
Here's what it looks like for companies hiring out-of-state-employees in Iowa—or accommodating employees moving to Iowa if there's no established business nexus.
1. Iowa Employment Registration
When you begin the process of hiring an out-of-state employee in Iowa, your first order of business is to register your company as an employer in the state. After you've completed this process, and within 15 days of hiring them, you can report your new employee to the Iowa Department of Labor and get set up with unemployment insurance and workers' compensation coverage.
Obtain a registered agent
Register to do business in Iowa
Report new hire to the Department of Labor 
Register for unemployment insurance
Report unemployment insurance account to payroll provider
Obtain workers' compensation coverage or update the policy
2. Iowa Tax Registration
It's critically important that you keep tax considerations top of mind when your business begins operating in Iowa. This involves registering for income tax withholding and getting the necessary documentation from your employee. There's also the matter of sales tax: while how much sales tax you'll have to collect and pay depends on the nature of your business, this is a detail you'll need to get right in order to remain in compliance with Iowa law.
Register for income tax withholding account
Obtain the completed state income tax withholding form from the employee
Register for a sales tax license or permit
3. Iowa Employment Policies
All states have unique benefits they require employers to provide their workers, and Iowa is no exception. SixFifty's employee handbook tool has specific information about what needs to be included in each state's handbook. Once you've looked over the requirements for Iowa, you'll want to ensure your employee handbook complies with Iowa's standards. If it doesn't, you'll need to update it accordingly, perhaps even creating new policies if necessary.
Review employee handbook for compliance
Update policies or add new leave policies as needed
4. Iowa Required Employment Policies (May 2023)
Business Expense Reimbursement
Elected Official Leave (20 Employees)
Jury Duty Leave 
Meal and Rest Breaks (minors only)
Pregnancy Leave (4 Employees) (Parental Leave)
Volunteer Emergency Service Provider and Civil Service Leave
Voting Leave
Witness Duty Leave
5. Iowa Employment Implications
Your business also needs to understand a variety of state-level employment implications to ensure you're compliant with Iowa's employment laws, as well as supporting your employee in accordance with the state's standards. For example, when hiring an out-of-state employee in Iowa, you'll have to make sure you're paying them appropriately in terms of the minimum wage and frequency of payment.
Ensure non-compete provisions comply with Iowa law
Confirm the employee is paid at least the minimum wage
Review the applicable overtime laws
Confirm the payroll practices meet the payment frequency standards in Iowa
Consider whether insurance extends coverage to employees in Iowa
Consider COVID-19 laws that affect the employee
6. Iowa Signage
Iowa employers are required to post signage in their workplaces related to minimum wage, unemployment insurance, job safety and other subjects. However, Iowa has not outlined any requirements for posting signage for exclusively remote employees. Employers should consider the guidance provided by the United States Department of Labor regarding posting signage electronically, such as on a company intranet.
Post or distribute required signage
Simplify Multistate Compliance with SixFifty
The process of maintaining compliance can be complex and extremely nuanced for companies unfamiliar with Iowa employment laws and standards. It's why SixFifty has compiled an extremely useful tool for businesses hiring out-of-state employees in Iowa. To simplify the process of hiring out-of-state employees in Iowa or supporting remote employees on-the-move, check out our 50 State Hiring Kit.