If you're hiring out of state employees in Illinois for the first time, or if one of your current employees is thinking about relocating, it's important to keep in mind that every U.S. state has different employment laws in place. Failing to comply can open a company up to serious consequences with the Department of Labor.
Remote work is a reality for more workers today than ever before. It's no longer assumed that an employee lives in the same place where their company is located—in fact, with certain types of jobs, not working remotely is quickly coming to be viewed as the exception. While this new employment landscape offers considerable benefit to workers and companies alike, it also presents some challenges that can create a hassle for employers if they aren't up to speed on compliance.
Thankfully, with SixFifty's multistate employment solutions, it's possible to reduce your burden when hiring a new employee in Illinois. Below is an overview of some of the challenges SixFifty can help your company address.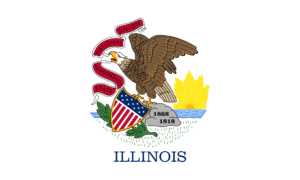 Scenario 1: Employee works from home in another state
Gone are the days when moving to a new state automatically meant searching for a new job. Now, with remote work a greater possibility in many industries, it's much easier for employees to move while keeping their current position. That said, this does put the onus on the employer to ensure they're appropriately taking the employee's new location into account when it comes to policies, benefits and more.
Scenario 2: Hiring out-of-state employees in Illinois
Perhaps your Missouri company wants to expand its hiring options to candidates based in nearby Illinois. This is easier than ever with remote work options—not to mention with help from SixFifty's solutions, which will help your company set up operations in Illinois to accommodate your new employee and ensure you're abiding by all the relevant local laws and standards.
Multistate Employer Registration Factors to Consider
In both of the above scenarios, employers need to pursue multistate compliance or risk being held accountable by the Department of Labor for failing to comply with state-specific employment standards. Compliance differs across all 50 states. To simplify the process, SixFifty has narrowed down multistate employer registration considerations to five core areas of focus. 
Here's what it looks like for companies hiring out-of-state-employees in Illinois—or accommodating employees moving to Illinois if there's no established business nexus.
1. Illinois Employment Registration
The process of registering your business in Illinois may seem fairly straightforward—it's a matter of finding a registered agent and filing the required paperwork—but the challenge is that it needs to be completed with the Department of Labor within 20 calendar days of the employee's date of hire. After this, you'll still need to register for unemployment insurance and secure the appropriate workers' compensation coverage.
Obtain a registered agent
Register to do business in Illinois
Report new hire to the Department of Labor 
Register for unemployment insurance
Report unemployment insurance account to payroll provider
Obtain workers' compensation coverage or update the policy
2. Illinois Tax Registration
In addition to having income tax withheld, your company will need to pay sales tax in Illinois if it has either a physical presence in the state (a single remote employee qualifies) or meets the economic threshold nexus (over $100,000 in sales or more than 200 transactions annually). However, depending on what you're selling, you may not be required to pay sales tax.
Register for income tax withholding account
Obtain the completed state income tax withholding form from the employee
Register for a sales tax license or permit
3. Illinois Employment Policies
As an Illinois employer, your employee handbook will need to include policies specific to your employees living there. Illinois has a number of specific requirements pertaining to employee leave, including jury duty, military service, paid time off, pregnancy/childbirth/childrearing and more. Some policies, such as for bereavement, blood donor leave and school activities, apply to companies with a certain number of employees in Illinois.
Review employee handbook for compliance
Update policies or add new leave policies as needed
4. Illinois Required Employment Policies (May 2023)
Business Expense Reimbursement
Bereavement Leave (50 Employees)
Blood Donor Leave (51 Employees)
Civil Air Patrol Leave (15 Employees)
Domestic Violence Leave (15 Employees)
Election Judge Leave (25 Employees)
Emergency Worker Leave 
Jury Duty Leave 
Meal and Rest Breaks
Military Service Leave 
Paid Sick Leave (for Chicago and Cook County)
Paid Time Off
Pregnancy, Childbirth, and Childrearing Leave (Parental Leave)
School Visitation Leave (50 Employees)
Sexual Harassment Policy
Voting Leave
Witness Duty Leave
IL SecureChoice Retirement
5. Illinois Employment Implications
While you may be very familiar with the employment laws in your home state and understand how they impact your workers and your business, the laws that will apply to your Illinois employee may differ in some key ways. It's important to familiarize yourself with these standards to ensure your business is fully compliant and providing accurate information to your employee.
Ensure non-compete provisions comply with Illinois law
Confirm the employee is paid at least the minimum wage
Review the applicable overtime laws
Confirm the payroll practices meet the payment frequency standards in Illinois
Consider whether insurance extends coverage to employees in Illinois
Consider COVID-19 laws that affect the employee
6. Illinois Signage
While signage related to a whole host of state and federal policies is required in Illinois workspaces, the state has offered no guidance on how to post signage for remote employees. Employers are advised to follow the recommendations of the United States Department of Labor regarding electronic posting to ensure remote employees are appropriately informed.
Post or distribute required signage
Simplify Multistate Compliance with SixFifty
The process of maintaining compliance can be complex and extremely nuanced for companies unfamiliar with Illinois employment laws and standards. It's why SixFifty has compiled an extremely useful tool for businesses hiring out-of-state employees in Illinois. To simplify the process of hiring out-of-state employees in Illinois or supporting remote employees on-the-move, check out our 50 State Hiring Kit.