When hiring an out-of-state employee in Idaho for the first time, a company has to account for all the implications that come along with this decision. If your business isn't already operating in Idaho, you'll have to establish yourself there and ensure you're compliant with the state's employment laws and standards.
With the pandemic shifting huge numbers of workers out of their offices and into remote work setups, the landscape for employers has changed considerably. No longer are companies limited to worker pools in their area—now they can tap into the nationwide talent pool. Similarly, workers suddenly have the option of applying to remote positions in states other than the one in which they live. All of this change has created a mix of benefits and drawbacks for everyone involved.
As remote work becomes a more common element of the employment landscape, more and more companies are coming face to face with the complexity of hiring and employing out-of-state workers. Below we'll take a closer look at some of the considerations you'll need to keep in mind—and show you how SixFifty can help.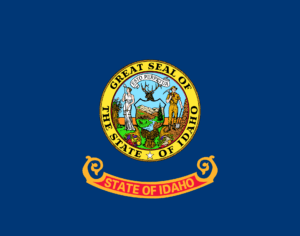 Scenario 1: Employee works from home in another state
Recent changes in the work environment have made it possible for an employee to move from one state to another while retaining their current job. They might move to Idaho for a slower pace of life, or to take in the natural surroundings. Regardless of the reason, though, their move requires their employer to establish itself as a business in Idaho. A big part of this process is ensuring the business is compliant with Idaho's state-specific policies regarding the employee.
Scenario 2: Hiring out-of-state employees in Idaho
The need for compliance also arises in situations in which an employer is looking to hire an out-of-state worker. Talented applicants who are committed to staying in Idaho enjoy a far wider range of opportunities with the rise of remote work, and many employers are happy to hire out-of-state prospects. However, an Illinois company looking to hire an Idaho worker will also need to establish a business nexus there, and ensure it's appropriately classifying its new Idaho employee.
Multistate Employer Registration Factors to Consider
In both of the above scenarios, employers need to pursue multistate compliance or risk being held accountable by the Department of Labor for failing to comply with state-specific employment standards. Compliance differs across all 50 states. To simplify the process, SixFifty has narrowed down multistate employer registration considerations to five core areas of focus. 
Here's what it looks like for companies hiring out-of-state-employees in Idaho—or accommodating employees moving to Idaho if there's no established business nexus.
1. Idaho Employment Registration
Registering your business as an employer in Idaho involves hiring a registered agent and registering with the Idaho Division of Corporations, Business and Professional Licensing. Once you've reported your new hire to the Idaho New Hire Directory, you'll need to register for unemployment insurance and get the required workers' compensation policy.
Obtain a registered agent
Register to do business in Idaho
Report new hire to the Idaho New Hire Directory 
Register for unemployment insurance
Report unemployment insurance account to payroll provider
Obtain workers' compensation coverage or update the policy
2. Idaho Tax Registration
Tax registration in Idaho requires your business to register for income tax withholding. You'll also need to ensure your employee fills out and submits a W-4. By having an employee in the state, you'll be required to register for a sales tax license. However, depending on how much business you do in Idaho, you might not be required to collect and remit sales tax to the state.
Register for income tax withholding account
Obtain the completed state income tax withholding form from the employee
Register for a sales tax license or permit
3. Idaho Employment Policies
Idaho has state-level requirements for jury duty and military service leave benefits, and you'll want to make sure the policies outlined in your employee handbook are consistent with these standards, for your own protection as well as for the employee's benefit and understanding. SixFifty can help you generate policies that are compliant with Idaho's regulations.
Review employee handbook for compliance
Update policies or add new leave policies as needed
4. Idaho Required Employment Policies (May 2023)
Jury Duty Leave 
Military Service Leave
5. Idaho Employment Implications
How much do you know about Idaho's overtime and minimum wage laws? If this is your first Idaho employee, probably not much—and that's just the tip of the iceberg. A whole host of employment implications apply to your situation with your new employee, and you'll need to familiarize yourself with Idaho's specific policies and standards to ensure your business is compliant.
Ensure non-compete provisions comply with Idaho law
Confirm the employee is paid at least the minimum wage
Review the applicable overtime laws
Confirm the payroll practices meet the payment frequency standards in Idaho
Consider whether insurance extends coverage to employees in Idaho
Consider COVID-19 laws that affect the employee
6. Idaho Signage
Idaho's standard workplace signage requirements—regarding minimum wage, EEOC, OSHA, unemployment insurance, anti-discrimination policies and more—will still apply to your business, even if your employee works remotely. However, Idaho has not indicated how to post signage for exclusive remote employees, and employers should refer to the guidance set forth by the United States Department of Labor regarding electronic posting.
Post or distribute required signage
Simplify Multistate Compliance with SixFifty
The process of maintaining compliance can be complex and extremely nuanced for companies unfamiliar with Idaho employment laws and standards. It's why SixFifty has compiled an extremely useful tool for businesses hiring out-of-state employees in Idaho. To simplify the process of hiring out-of-state employees in Idaho or supporting remote employees on-the-move, check out our 50 State Hiring Kit.