Remote work allows employers and employees significantly more flexibility in work and hiring practices. There's no reason you should be limited by geography: technology makes it easy for colleagues to collaborate. Unfortunately, hiring out of state employees in Delaware can create complex employment law compliance issues. Failure to comply can rack up large fines and penalties, before you even realize there's a problem.
Instead of researching employment standards in every new state, or racking up astronomical legal bills, SixFifty makes it easy to meet employment standards across all 50 states. From establishing your economic nexus to updating your employee handbook, our multistate employment tools simplify the process. You'll enjoy the ability to hire employees across the country, and stay fully compliant with each new set of standards.
Here's an overview of what it's like to retain or hire out of state employees in Delaware, and how SixFifty's solutions make it fast and affordable.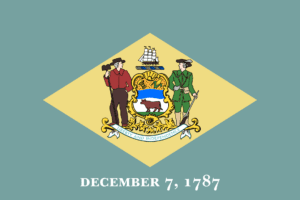 Scenario 1: Employee works from home in another state
Sometimes, employees need to leave their home state. Whether they're following a partner to another job, moving to be closer to family, or looking for a change of pace, you don't have to lose your valuable employees. They can move to Delaware and work remotely—as long as you follow the proper registration steps. If your company doesn't already have an economic nexus in Delaware, you'll need to register with the state.
Scenario 2: Hiring out of state employees in Delaware
Other times, your company may choose to hire new, remote employees in Delaware. Again, unless you already have an economic nexus in the state, you'll need to follow the appropriate employee registration steps. Even though your company is located in Arkansas, for example, any employees living in Delaware are subject to Delaware's state employment laws and standards. This allows employers to hire in all 50 states, even if their physical location is thousands of miles away.
Multistate Employer Registration Factors to Consider
In both of the above scenarios, employers need to pursue multistate compliance or risk being held accountable by the Department of Labor for failing to comply with state-specific employment standards. Compliance differs across all 50 states. To simplify the process, SixFifty has narrowed down multistate employer registration considerations to five core areas of focus.
Here's what it looks like for companies hiring out-of-state-employees in Delaware—or accommodating employees moving to Delaware if there's no established business nexus.
1. Delaware Employment Registration
The first task is to register your business in Delaware, unless you've already established an economic nexus in the state. Registering a corporation to do business in Delaware is a slightly more complex process than other states—companies file a "certificate of existence" in this state, along with registering for insurance and workers' compensation policies.
Obtain a registered agent
Register to do business in Delaware
Report new hire to the Delaware State Directory of New Hire Reporting
Create an unemployment insurance
Report unemployment insurance account to payroll provider
Obtain workers' compensation coverage or update the policy
2. Delaware Tax Registration
Delaware requires businesses to complete the appropriate tax registration forms. While Delaware does not impose a state or local sales tax, it does impose a gross receipts tax on the seller of goods or provider of services in the state. Employers must register for a gross receipts tax with the Delaware Taxpayer Portal.
Register for income tax withholding account
Obtain the completed state income tax withholding form from the employee
Register for a gross sales tax
3. Delaware Employment Policies
Delaware has six state-specific employment policies which must be included in your Delaware employee handbook. Employers can use SixFifty's employment handbook tool to automatically generate state-specific handbooks every time a new hire comes on board. You'll need to review your policies to ensure they do not conflict with Delaware state law.
Review employee handbook for compliance
Update policies or add new leave policies as needed
4. Delaware Required Employment Policies (May 2023)
Crime Victim Leave
Domestic Violence Leave (4 Employees)
Election Officer Leave
Voting Leave
Jury Duty Leave
Meal and Rest Breaks
Volunteer Emergency Responders Leave (10 Employees)
5. Delaware Employment Implications
As an employer, you'll also need to make sure that you understand certain state employment implications. For instance, employers must comply with minimum wage, overtime, and payroll laws. You'll need to review your non-compete provisions to ensure they don't conflict with Delaware's limitations, and review COVID-19 and insurance policies as necessary.
Ensure that non-compete provisions comply with Delaware law
Confirm that the employee is paid at least the minimum wage
Review the applicable overtime laws
Confirm that the payroll practices meet the payment frequency standards in Delaware
Consider whether insurance extends coverage to employees in Delaware
Consider COVID-19 laws that affect the employee
6. Delaware Signage
Finally, you need to be familiar with Delaware's signage requirements. Employers are required to post signage in a conspicuous place near the actual locations where the employees' services are performed. Unlike some states, however, there are no guidelines for posting signage remotely. Generally, this requirement can be satisfied by making the signage available to your employees on company intranet, in an online folder or on your webpage.
Post or distribute required signage
Simplify Hiring Out of State Employees in Delaware and Multistate Compliance with SixFifty
The process of maintaining compliance can be complex and extremely nuanced for companies unfamiliar with Delaware employment laws and standards. It's why SixFifty has compiled an extremely useful tool for businesses hiring out-of-state employees in Delaware. To simplify the process of hiring out-of-state employees in Delaware or supporting remote employees on-the-move, check out our 50 State Hiring Kit.