We've entered the age of remote work, which means your employees can telecommute from anywhere. It's a win-win for businesses that want to expand their talent search—and for employees who want the freedom to live (and work) wherever is best for them. But remote work isn't without its challenges. Specifically, employers need to make sure they're compliant with employment laws when hiring out of state employees in Alaska.
When it comes to hiring out-of-state employees in Alaska, for example, there's a laundry list of regulatory and compliance considerations to navigate. If your company doesn't have a physical presence in Alaska, you'll need to establish one. Without consideration for state-level employment laws, companies can find themselves in hot water—fast. 
Thanks to our out-of-state hiring guide, SixFifty is making it easier for companies to support new employees in Alaska. Let's take a look at how businesses can simplify the many considerations that come with hiring Alaskans.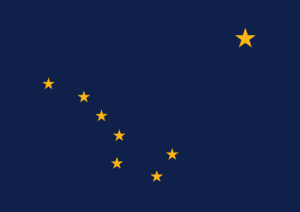 Scenario 1: Employee works from home in another state
One of the most common challenges businesses face in the current remote work environment is when current employees move from one state to another. Your employees might move to Alaska so they're closer to family, or simply to enjoy the last frontier of naturalistic beauty in America. Whatever the reason, their new home means establishing a new business nexus for your organization. It's important to maintain out-of-state employment compliance by ensuring your current employees meet Alaska's unique policies and standards. 
Scenario 2: Hiring out of state employees in Alaska
Remote work opens up the entire country's talent pool, and many companies will find the skills they're looking for in Alaska. If you hire from Alaska, make sure your organization establishes itself as a registered employer—and abides by all state-level hiring and employment standards. For example, a company operating out of Missouri will need to establish a business nexus in Alaska, and make sure it's classifying all Alaskan employees accordingly. 
Multistate Employer Registration Factors to Consider
In both of the above scenarios, employers need to pursue multistate compliance or risk being held accountable by the Department of Labor for failing to comply with state-specific employment standards. Compliance differs across all 50 states. To simplify the process, SixFifty has narrowed down multistate employer registration considerations to five core areas of focus. 
Here's what it looks like for companies hiring out-of-state-employees in Alaska—or accommodating employees moving to Alaska if there's no established business nexus. 
1. Alaska Employment Registration
To become recognized as an employer by the State of Alaska, you'll need to hire a registered agent and obtain a certificate of authority. From there, all new hires must be reported to the Department of Revenue. Don't forget to register for unemployment insurance and take out a workers' compensation policy for employees that reside in Alaska!
Obtain a registered agent
Obtain a certificate of authority in Alaska
Report new hire to the Department of Revenue Child Support Services Division
Register for unemployment insurance
Obtain workers' compensation coverage or update the policy
2. Alaska Tax Registration
Tax registration is simpler in Alaska than other states—it's one of nine states with no income tax. That said, you'll still need to determine if your organization needs to worry about state sales tax. If you do, you'll need to register for a sales tax license or permit in local jurisdictions. It can be a complex process to navigate if you're new to being an employer in Alaska. 
Determine if the employer must collect sales tax in Alaska
If applicable, register for a sales tax license or permit in local jurisdictions
3. Alaska Employment Policies
From jury duty leave to meal breaks, Alaska has its own state-level employment policies. Make sure your organization understands and implements these policies, and that your employee handbook reflects these updates accordingly. This is a crucial step not only for compliance, but for keeping your employees informed and empowered through transparency. 
Review employee handbook for compliance
Update policies or add new leave policies as needed
4. Alaska Required Employment Policies (April 2023)
Jury Duty Leave
Meal and Rest Breaks (minors only)
Voting Leave
5. Alaska Employment Implications
Do you know the minimum wage rate in Alaska? State-mandated overtime policies? Do your employee benefits align with the state's policies? It's vital to assess your employment standards and make sure that you're in full compliance. Faltering on employment implications can put employers in a cumbersome situation—one that's best avoided with diligent observation of Alaska's employment standards. 
Ensure that non-compete provisions comply with Alaska law
Confirm that the employee is paid at least the minimum wage
Review the applicable overtime laws
Confirm that the payroll practices meet the payment frequency standards in Alaska
Consider whether insurance extends coverage to employees in Alaska
Consider COVID-19 laws that affect the employee
6. Alaska Signage
While you might not operate a physical office in Alaska, there are still policies regarding workplace signage. Wage and Hour signage, safety signage, emergency information signage and more are all stipulated by Alaskan law, and it's up to employers to understand the expectations for displaying them—even in a remote work environment. 
Post or distribute required signage
Simplify Multistate Compliance when Hiring Out of State Employees in Alaska with SixFifty
The process of maintaining compliance can be complex and extremely nuanced for companies unfamiliar with Alaska employment laws and standards. It's why SixFifty has compiled an extremely useful tool for businesses hiring out-of-state employees in Alaska. To simplify the process of hiring out-of-state employees in Alaska or supporting remote employees on-the-move, check out our 50 State Hiring Kit.