In a post-pandemic world, the hiring landscape has changed. The shift to remote work has made it possible to tap into talent pools across the country, and to better accommodate employees moving to states the company doesn't currently operate in. And while this offers plenty of convenience and opportunity for both companies and employees, it also creates more than a few complications when hiring out of state employees in Alabama.
When it comes to hiring out-of-state employees in Alabama, companies need to consider the implications of becoming an out-of-state employer. If you don't have an economic nexus in Alabama, you'll need to establish one. Likewise, you'll need to ensure compliance with the state's employment laws and standards.
It's important for businesses to be mindful of multistate compliance and employer registration in our new remote work world. Let's take a closer look at the complexities of navigating employment standards and situations that might call compliance into question.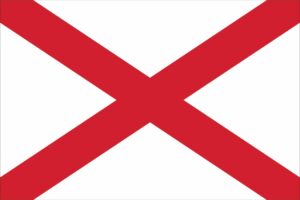 Scenario 1: Employee works from home in another state
The most common out-of-state employment compliance scenario for many companies is when remote employees move to a new state. For instance, an employee might choose to move to Alabama to be closer to family or to better accommodate a partner's employment. In these situations, the employee is leaving the state where their employer is registered and moving to one where it may not have an established business nexus or compliance with state employment standards.
Scenario 2: Hiring out-of-state employees
Another common compliance scenario many employers now face occurs when they hire employees from out-of-state, in an area where the company isn't yet registered as an employer. For example, a company in Minnesota might hire three new remote employees living in Alabama. These employees all work for the Minnesota-registered company, but from Alabama where the company isn't yet a registered employer.
Multistate Employer Registration Factors to Consider
In both of the above scenarios, employers need to pursue multistate compliance or risk being held accountable by the Department of Labor for failing to comply with state-specific employment standards. Compliance differs across all 50 states. To simplify the process, SixFifty has narrowed down multistate employer registration considerations to five core areas of focus.
Here's what it looks like for companies hiring out-of-state-employees in Alabama—or accommodating employees moving to Alabama if there's no established business nexus.
1. Alabama Employment Registration
The first and most important step in meeting multistate hiring compliance standards is to establish your organization as an employer within Alabama. To do this means establishing a business nexus within the state. You'll need to register your business with state authorities, report new hires to the DOL, register for unemployment insurance and stay abreast of workers' compensation coverage requirements.
Obtain a registered agent
Register to do business in Alabama
Report new hire to the Alabama Department of Labor
Register for unemployment insurance
Report unemployment insurance account to payroll provider
Obtain workers' compensation coverage or update the policy
2. Alabama Tax Registration
Establishing tax registration is the second step in creating a business nexus in Alabama, and it's critical for ensuring you maintain adequate payroll tax withholdings for employees working within the state. You'll need to register for an income tax withholding account, as well as sales tax license or permit. The economic threshold for sales tax in Alabama is $250,000 in annual sales.
Register for income tax withholding account
Obtain the completed state income tax withholding form from the employee
Register for a sales tax license or permit
3. Alabama Employment Policies
Every state's employment policies differ, which makes it important to have a clear understanding of Alabama policies and how they apply to workers within the state. In Alabama, this means establishing policies for things like jury duty and voting leave, as well as meal breaks, military service leave and volunteer leave. Laying out these policies clearly and with specificity is critical.
Review employee handbook for compliance
Update policies or add new leave policies as needed
4. Alabama Required Employment Policies (May 2023)
Crime Victim Leave
Election Official Leave (25 Employees)
Jury Duty Leave
Meal and Rest Breaks (minors only)
Military Service Leave
Volunteer Firefighter and Emergency Medical Service Leave
Voting Leave
5. Alabama Employment Implications
From non-compete agreements, to minimum wage requirements, to the process for terminating employees, Alabama has specific employment implications that require clear understanding and practice. This also includes special policies and implications surrounding things like COVID-19 or insurance coverages, which are unique to Alabama state employment standards.
Ensure that non-compete provisions comply with Alabama law
Confirm that the employee is paid at least the minimum wage
Review the applicable overtime laws
Confirm that the payroll practices meet the payment frequency standards in Alabama
Consider whether insurance extends coverage to employees in Alabama
Consider COVID-19 laws that affect the employee
6. Alabama Signage
Unlike the federal signage requirements, Alabama has not indicated how to post signage for exclusively remote employees. Employers should consider following guidance from the United States Department of Labor regarding electronic posting. The types of signage required to be present in the State of Alabama are numerous, including information about child labor laws, human trafficking awareness, unemployment compensation fraud and others.
Post or distribute required signage
Simplify Multistate Compliance with SixFifty
The process of maintaining compliance can be complex and extremely nuanced for companies unfamiliar with Alabama's employment laws and standards. It's why SixFifty has compiled an extremely useful tool for businesses hiring out-of-state employees in Alabama. To simplify the process of hiring out-of-state employees in Alabama or supporting remote employees on-the-move, check out our 50 State Hiring Kit.