Employee handbooks should contain individual workplace needs in accordance with the requirements of Washington's state and federal laws.  Washington employee policies should be in your handbook.  And, when developing policies and procedures, it is crucial to make sure they reflect the size of your company, the employee needs, state laws and federal laws.  It is important to note that state labor and employment laws are ever-changing and outdated policies can put your company at risk.  It is important to have your state labor and employment laws reviewed and updated.
Did you know that there were at least five new changes in the Washington state labor laws that occurred in 2019?  These changes can impact Washington employers, their handbooks and the policies in them.  With these important changes and the pandemic, there's no doubt that your Washington employee handbook needs to be reviewed as well as updated.  Check out the required Washington state policies, federal policies and optional policies below to help you create an employee handbook that has all the policies your business needs in 2021 and beyond.
Washington State and Federal Employee Policies: 
Required Federal Policies
Equal Employment and Anti-Discrimination Policy
Sexual Harassment Policy
Family Medical Leave Act (FMLA) Policy (50 Employees)
Military Service Leave
Jury Duty Leave
Required Washington State Policies
Meal and Rest Breaks
FMLA (state-specific)
Paid Sick Leave (including specific policies for Seattle and Tacoma)
Pregnancy Disability Leave (8 Employees)
Domestic Violence Leave
Military Service Leave (state-specific)
Jury Duty Leave (state-specific)
Voting Leave
Witness Duty Leave
Volunteer Firefighter and Civil Air Patrol Leave (20 Employees)
Optional Washington Policies
Outside Employment Policy
Health and Safety Policy
Social Media Policy
At-Will Employment Policy
Lactation Accommodation Policy
Telecommuting Policy
Temporary Relocation Policy
Employee Benefits Policy
Timekeeping for Non-Exempt Employees Policy
Overtime Policy
Salary Pay for Exempt Employees Policy
Payroll Deductions Policy
Payment of Wages Policy
Direct Deposit Policy
Business Expense Reimbursement Policy
Holidays
Vacation/Paid Time Off
Workers' Compensation
Leave Policies, including: Bereavement Leave; Organ, Bone Marrow, and Blood Donor Leave; Crime Victim Leave; School Activity Leave
Creating an Employee Handbook
Creating an employee handbook can take time, money and even lawyers to keep your policies up-to-date.  That is why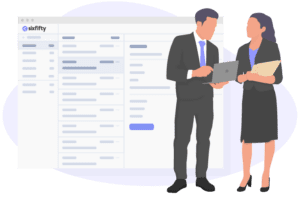 Sixfifty created a solution to save you time, money and keep your employee handbook up-to-date on the latest state and federal laws.  Sixfifty has an easy to use employee handbook generator that helps keep your company's employee handbook both up-to-date and compliant.  This tool includes over 50 policies that account for the law in every state. And, if you're looking to make more permanent changes, SixFifty's Employee Handbook can be customized to each of your business needs.
This tool was created with your business in mind, so when creating this solution, we teamed up with the top employment law firm in the nation to teach a computer how to write employment policies for companies, just like an attorney would to create the employment documents your business needs.
Enlist help
As Washington employment policies are ever-changing it can be hard to understand exactly what guidelines your company handbook may need.  That's why Sixfifty's employee handbook tool can be your solution to stay up-to-date and compliant with local and federal guidelines.
We're here to help!  Schedule a free demo today!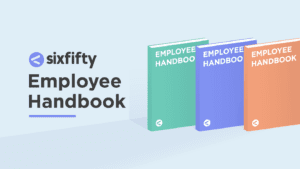 This presentation/publication contains legal information. It is not legal advice. Please consult an attorney for legal advice.