How's your employee handbook? If you're not creating state-specific employee handbooks, you could be putting your company at risk. The following Washington employee handbook requirements are must-have.
While no business is required to have an employee handbook, creating one fulfills an employer's obligation to notify employees of certain rights. Whether you're hiring across the country or solely in Washington state, a state-specific employee handbook is a smart way to introduce your new hires to the company, set forth company policies and notify employees of job expectations. Should problems arise, you'll have documentation to support both employer and employee.
The problem is, Washington employee handbooks need to contain five mandatory federal policies, as well as 10 required state policies. Plus, there are over 50 more optional policies you can add. Because state and federal laws change all the time, you'll need to periodically update your employee handbooks.
If you're hiring in multiple states, simply keeping up with the law can be time consuming. Hiring remotely means you can gather top talent from all 50 states—but few companies have time to research, create and update employee handbooks each time they hire in a new state.
SixFifty can help. Read on to learn about required and optional Washington employee handbook policies, then find out how we take the work out of compliance.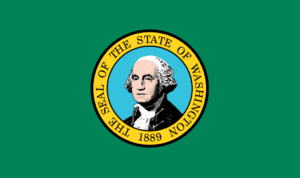 Required Federal Employee Handbook Policies
Federal law supersedes state law. The government requires employers to include five main federal employee handbook policies. These cover critical worker rights, including anti-discrimination laws, different types of leave and how the company handles sexual harassment.
The required federal employee handbook policies are the same across all 50 states, so you'll need to include them in each state-specific version of your employee handbook. When there's a change to the law, each handbook needs to be updated with the new federal laws.
Each of the following policies must be included in your employee handbook:
Equal Employment and Anti-Discrimination Policy
Family and Medical Leave Act (FMLA) Policy (50 Employees)
Jury Duty Leave
Military Service Leave
Sexual Harassment Policy
Required Washington Employee Handbook Policies
In addition to the five required federal policies, Washington state has included 10 more required policies. Note that some of these policies overlap with federal policies, such as FMLA, jury duty and military service leave. While federal law supersedes state law, states have the right to further tailor federal policies.
Note that some policies are only applicable to companies of a certain size, while paid sick leave policies are specific to Seattle and Tacoma. Be sure to use the right geographic area policies when hiring employees there.
Washington requires the following state employee handbook policies:
Domestic Violence Leave
FMLA
Jury Duty Leave
Meal and Rest Breaks
Military Service Leave
Paid Sick Leave (including specific policies for Seattle and Tacoma)
Pregnancy Disability Leave (8 Employees)
Volunteer Firefighter and Civil Air Patrol Leave (20 Employees)
Voting Leave
Witness Duty Leave
Optional Washington Employee Handbook Policies
But wait, there's more! While the previous 15 policies are mandated, you may also wish to add one of over 50 optional policies. For instance, most companies will include the at-will employment policy, dress code policies, holidays and pay policies—they're useful for most businesses.
You can also add policies to address specific company concerns—remote businesses might want to offer a telecommuting policy, while others may have a need to set forth company property and off-duty facility use policies. These offer additional protection for the company and structure for employees.
Choose from over 50 optional policies:
Affinity Group Policy
Arbitration Policy
At-Will Employment Policy
Background Check Policy
Business Expense Policy
Company Property Policy
Confidentiality and Trade Secrets Policy
Desk Hoteling Policy
Direct Deposit Policy
Dress Code Policy
Drug and Alcohol Abuse Policy
Electronic Devices While Driving Policy
Employee Benefits Policy
Employee Classification Policy
Employee Dating Policy
Employee References Policy
Employment of Relatives Policy
Exit Interview Policy
Gifts Policy
Health and Safety Policy
Holidays
Immigration Law Compliance
Lactation Accommodation Policy
Leave Policies, including: Bereavement Leave; Organ, Bone Marrow and Blood Donor Leave; Crime Victim Leave; School Activity Leave
Marijuana Policy
Off-Duty Use of Facilities
Outside Employment Policy
Overtime Policy
Payment of Wages Policy
Payroll Deductions Policy
Performance Review Policy
Personnel Files Policy
Pets in the Workplace Policy
Progressive Discipline Policy
Public Relations Policy
Punctuality and Attendance Policy
Salary Pay Policy
Social Media Policy
Solicitation and Distribution of Literature Policy
Technology Systems Policy
Telecommuting Policy
Temporary Relocation Policy
Timekeeping Policy
Vacation/Paid Time Off
Video Conferencing Policy
Workers' Compensation Policy
Workplace Violence Policy
Workplace Visitor Policy
Workweek and Work Schedules Policy
SixFifty Helps Employers Meet Washington Employee Handbook Requirements
Creating your employee handbook can feel like a full-time job. Between researching, adding and updating Washington employment policies, it takes a lot of time to protect your company.
That's where we come in. SixFifty's Employee Handbook tool makes it fast, affordable and easy to generate employee handbooks for all 50 states. We combine the convenience of automation with real expertise from some of the nation's top lawyers. Just answer a few questions, download the handbook files and have your lawyer review and approve. Best of all, we'll let you know when state and federal employment laws are updated, so you can make the necessary changes.
Questions? Want to see how it works? Schedule a free demo with SixFifty today!