More people are working from home than ever before, with 12% of workers fully remote, and 28% hybrid. In total, more than 4.7 million people work remotely at least half of the time in the United States. And though the ever-growing remote workforce presents businesses with an incredible opportunity to hire talent from anywhere, it also comes with some serious challenges.
Companies that hire workers in multiple states take on new responsibilities they didn't have to worry about before, like staying compliant with employment laws that vary significantly from state to state. With hundreds of updates in employment laws happening across the country each year, achieving compliance becomes even more complex.
Even for businesses with in-house counsel, navigating the intricacies of diverse and constantly evolving employment laws can feel insurmountable—but we have great news. Technology can help support your team in dramatic new ways to reduce costs, save time and resources, and ensure compliance across the nation.
From a lawyer's point of view, why do companies need SixFifty?
Ryan Parker is Chief Legal Officer at SixFifty and leads the team of lawyers who create the legal tools, so he knows the ins and outs of the products like no one else. As a lawyer himself, Parker notes that businesses have countless legal tasks. Some of those complex tasks call for the expertise of an attorney, but many of the more routine tasks don't. Attorneys are really great at building complex, multi-layered tools—like chandeliers. But sometimes, you just need a lightbulb to provide clarity and get the job done.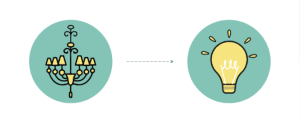 This is where SixFifty comes in. By automating routine legal tasks, like employment and separation agreements, NDAs, and website privacy notices, SixFifty makes legal documents far more affordable and convenient, without sacrificing quality.
Rather than spending hours drafting the basic framework for a routine legal document, lawyers or HR teams can spend just a few minutes answering a series of questions. The final product is a customized legal document tailored to their business needs—plus ongoing updates as the law changes.
"With thoughtful automation, businesses of all sizes have access to world-class legal services."
"With thoughtful automation, businesses of all sizes have access to world-class legal services," Parker said. That means HR teams can tackle the tasks that would otherwise be handled by outside legal professionals or in-house counsel.
The result? Scalable, top-tier legal expertise for any company (and any budget).
How does SixFifty benefit lawyers and small businesses?
Not only does Parker oversee the development of legal products at SixFifty—he also leads the team of GCs for the company. And because SixFifty uses its own products to serve the company, Parker gets to experience firsthand how SixFifty changes the game for busy, overburdened lawyers.
"As a small company of 40 employees, we perfectly fit the demographic of our target market," Parker said. "I use our products every day to make my job easier. It's fun for me to see that our tools really are an immense help to in-house counsels and small businesses a like."
"I use our products every day to make my job easier. It's fun for me to see that our tools really are an immense help to in-house counsels and small businesses alike."
From Parker's perspective as a lawyer, SixFifty offers four tangible benefits:
Lower cost

. Rather than hiring outside counsel or squandering the time of in-house counsel, SixFifty allows non-lawyers to draft legal documents in minutes, at an affordable monthly rate.

Greater convenience

. Hiring lawyers takes time, money, and resources. In contrast, SixFifty delivers 24/7 world-class legal expertise at your fingertips, without all the runaround.

Fast, ongoing updates

. Waiting for legal teams to draft and update documents can be a huge hassle, taking weeks or months to accomplish. SixFifty makes it easy to draft customized legal documents in minutes and lets you know when it's time to make updates.

Greater confidence

. SixFifty keeps track of changes to the law, so you don't have to. We'll alert you when laws change, and provide instructions on how to update documents to stay compliant.
What makes SixFifty a safe, reliable legal tool?
Legal documents are only as good as the expertise backing them—which is why SixFifty works with the world's top legal firms to develop our proprietary document automation technology. 
"We have full confidence in the product we're putting out," said Parker. "It's critical to us that our documents are always accurate and updated to reflect the latest changes. Our team of attorneys constantly reviews the law, so our clients don't have to."
As a world-class legal tool for any size business, SixFifty has earned the trust of brands like Cole Haan, Vineyard Vines, Lucid, See's Candies, and Cotopaxi. Likewise, hundreds of small businesses across the country turn to SixFifty as the easiest, most affordable solution for their legal needs.
How does SixFifty empower businesses to grow?
Today's businesses have the exciting opportunity to expand their talent pool nationwide, but they also need to manage requirements to keep up with laws in every state. Fortunately, SixFifty relieves that burden by decreasing the time and cost required to draft compliant legal documents.
"We're empowering companies to hire everywhere and grow in dynamic ways," Parker said. "With SixFifty, they can hire the best people anywhere and still have time to do what they do best. We're a partner with our customers to help them grow and be successful."
Ready to leverage the best legal expertise engine on the planet? Contact us today to get started.