Your employee handbook sets the tone for your company—and can protect you from liability. Whether you're hiring in Illinois alone, or in all 50 states, it's crucial that you are aware of the Illinois employee handbook requirements and ensure it complies with state and federal laws.
Did you know that Illinois employee handbooks have 20 required policies, and nearly 50 optional policies? When you create your Illinois employee handbook, you must ensure that it includes all the mandatory policies, as well as that any additional policies are legally compliant. Plus, each time the law changes, you'll need to update the affected handbooks accordingly.
That's a lot of work—and if you're hiring outside counsel for the task, it can get expensive very quickly. Hiring remotely means you have access to top talent across the country, but it also means you'll need a state-specific employee handbook for each new state.
Luckily, SixFifty makes it easy to get into compliance, and stay that way. Read on to learn what's required in your Illinois handbook, and how we can handle the heavy lifting.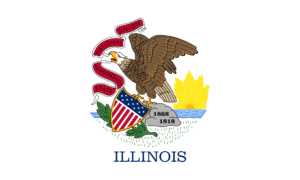 Required Federal Employee Handbook Policies
Because federal law is the supreme law of the land, mandatory federal policies are included in every employee handbook, regardless of state. The five mandatory policies protect basic worker rights, from taking leave to sexual harassment and anti-discrimination provisions.
When these laws are changed, it's incumbent upon you to update all of your employee handbooks with the new information. For instance, if the equal employment policies are updated to include new provisions, you'd need to update handbooks in all 50 states.
Each of the following policies must be included in your employee handbook:
Equal Employment and Anti-Discrimination Policy
Family and Medical Leave Act (FMLA) Policy (50 Employees)
Jury Duty Leave
Military Service Leave
Sexual Harassment Policy
Required Illinois Employee Handbook Policies
Illinois also requires 15 additional employee handbook policies. Some of these policies overlap with federal policies: states are welcome to elaborate upon federal law and tailor them for local concerns, as long as it doesn't conflict with federal law.
Note that certain required policies are limited to companies of a certain size, while paid sick leave policies are only for Chicago and Cook County. Which policies apply to your company will depend on its size and location.
Don't forget these 15 required Illinois employee handbook policies:
Bereavement Leave (50 Employees)
Blood Donor Leave (51 Employees)
Civil Air Patrol Leave (15 Employees)
Domestic Violence Leave (15 Employees)
Election Judge Leave (25 Employees)
Emergency Worker Leave
Jury Duty Leave
Meal and Rest Breaks
Military Service Leave
Paid Sick Leave (for Chicago and Cook County)
Paid Time Off
Pregnancy, Childbirth and Childrearing Leave
School Visitation Leave (50 Employees)
Voting Leave
Witness Duty Leave
Optional Illinois Employee Handbook Policies
In addition to the 20 required policies, there are also 48 optional Illinois state policies to choose from. Many of these policies are broadly applicable to every company, such as payment of wages, overtime and at-will employment policies.
Others may only be applicable depending on your business model. For instance, if you allow remote work, you may wish to add a telecommuting and videoconference policy. Transportation companies may add a policy governing the use of electronic devices while driving. Pick and choose the policies that meet your company's specific needs.
Choose from these optional Illinois policies:
Affinity Group Policy
Arbitration Policy
At-Will Employment Policy
Background Check Policy
Business Expense Policy
Company Property Policy
Confidentiality and Trade Secrets Policy
Crime Victim Leave
Desk Hoteling Policy
Direct Deposit Policy
Dress Code Policy
Drug and Alcohol Abuse Policy
Electronic Devices While Driving Policy
Employee Benefits Policy
Employee Classification Policy
Employee Dating Policy
Employee References Policy
Employment of Relatives Policy
Exit Interview Policy
Gifts Policy
Health and Safety Policy
Holidays
Immigration Law Compliance
Lactation Accommodation Policy
Marijuana Policy
Off-Duty Use of Facilities
Outside Employment Policy
Overtime Policy
Payment of Wages Policy
Payroll Deductions Policy
Performance Review Policy
Personnel Files Policy
Pets in the Workplace Policy
Progressive Discipline Policy
Public Relations Policy
Punctuality and Attendance Policy
Salary Pay Policy
Social Media Policy
Solicitation and Distribution of Literature Policy
Technology Systems Policy
Telecommuting Policy
Temporary Relocation Policy
Timekeeping Policy
Video Conferencing Policy
Workers' Compensation Policy
Workplace Violence Policy
Workplace Visitor Policy
Workweek and Work Schedules Policy
SixFifty Helps Employers Meet Illinois Employee Handbook Requirements
Creating, researching and updating your employee handbooks is time-consuming—but failing to do so exposes your business to liability. Every time state and federal law changes, you should update your employee handbook. Instead of burdening your in-house legal team or hiring outside counsel, SixFifty has the solution.
In our Employee Handbook tool, we've paired the convenience of automation with real legal expertise, so creating and updating state-specific employee handbooks is easier than ever. Simply answer a few questions about your company, download the generated files and have your lawyer review and approve. Plus, we update our products monthly, so staying compliant is a snap.
Questions? Want to see how it works? Schedule a free demo with SixFifty today!