Managing the COVID Chaos
SixFifty and Wilson Sonsini created two powerful tools to help organizations (1) rapidly develop thoughtful policies and (2) gather information from their workforce.
Schedule a Demo
Specialized COVID-19 Policies
Sixfifty's technology enables companies to rapidly generate customized policies, including: 1) COVID Extended Sick Leave Policy, 2) COVID Remote Work Policy, 3) COVID Travel Policy, 4) COVID Reimbursement Policy.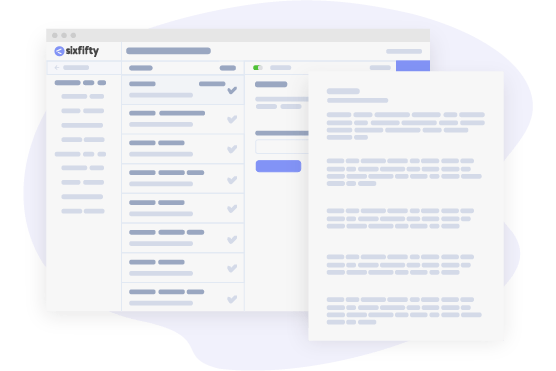 SixFifty's policies cover extended sick leave, remote work,
travel, and reimbursements.
Create an account

We'll collect some basic information and you'll be done in less than a minute.

Answer simple questions about your business

In order to adapt the policies to your business, we'll need to understand a few things.

Generate downloadable COVID-19 policies

We'll provide the policies as a .docx file, which you can download and own.
Taking the Pulse of Your Workforce
SixFifty's customizable questionnaire system enables employees to report on exposure to the virus in an easy and confidential method. The employee reports are logged, categorized, and organized to enable individuals or small teams to manage and track them at scale.
Connect with us to set up

In order for the solution to work best, we'll need to have a 5-minute conversation to properly set it up.

Upload a logo and customize questions

We'll want it to look on-brand and to match the tone of your business.

Send the link to employees

Place this link wherever your employees consume information from your company. We'll take care of it from there.
Ready To Get Started?
SixFifty is the easiest, and best solution
for your human resource COVID-19 needs.
schedule a demo
Stay up-to-date on the latest COVID-19 policy updates.
Subscribe to our newsletter and we will make sure to update you to any changes regarding our COIVD-19 tools.
[contact-form-7 404 "Not Found"]