President Biden Signs Into Law Limits on Mandatory Arbitration Agreements – What Does This Mean for Businesses?
Congress recently passed the Ending Forced Arbitration of Sexual Assault and Sexual Harassment Act of 2021, which President Biden signed into law on March 3, 2022. The new law, which prohibits the use of mandatory arbitration and class action waivers for sexual assault and harassment claims, will require employers nationwide to review their arbitration agreements and make necessary changes to comply with the law.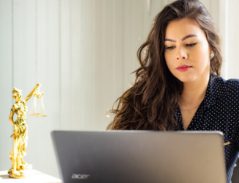 Download the CLE form and follow the included instructions to get credit for attending live.
Webinar Speakers

Josh Baca,
Legal Product Associate
Josh Baca is a Westminster College alumnus, and a recent graduate of the University of New Mexico Law School. Prior to serving as a Legal Product Associate for SixFifty, Josh worked at the employment law firm German・Burnette & Associates in Albuquerque, NM. At SixFifty, Josh has assisted in the creation of SixFifty's automated Employment Agreements and in maintaining contemporaneity in SixFifty's Return-to-Work Toolset.

Ryan Parker,
Chief Legal Product Officer
Ryan Parker is a proud graduate of the University of Utah and the University of Michigan Law School. Ryan worked as Senior Trial Counsel at the Department of Justice and served as the Chief of Litigation at the Office of the Director of National Intelligence before joining SixFifty as the Chief Legal Product Officer.

Adam Wright,
VP of Legal Products
Adam Wright is Vice President of Legal Product at SixFifty and a graduate of the University of Michigan Law School. Prior to joining SixFifty, Adam served as a federal judicial law clerk and worked in private practice focusing on intellectual property, employment, and commercial litigation. He enjoys chairs without backs and sitting down to read a nice privacy policy.