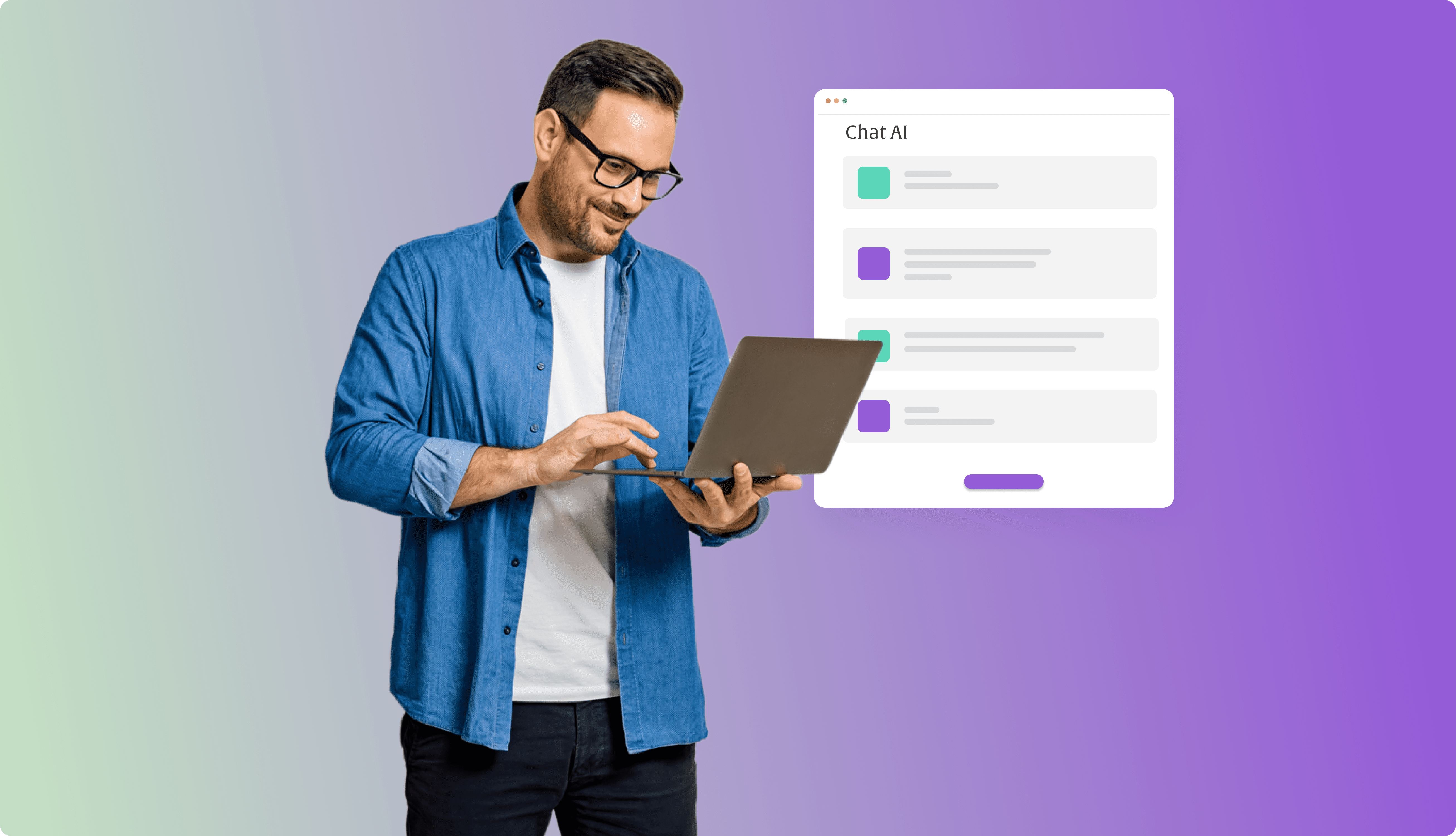 Set clear expectations for employees
Artificial intelligence is a great tool to help employees increase efficiency in the workplace. However, it's critical to outline who can use AI at work, what tools are permitted, and what type of information can be uploaded.
You can include this policy in your existing employee handbook.
How to create your
free

policy
AI in the Workplace

Policy FAQs

Employers must be aware of how employees use AI and define the scope in which new innovative technologies can be used, especially with potentially sensitive company data.
What is an AI in the Workplace Policy?
This AI in the Workplace Policy is an optional employment policy not currently required by state or federal laws.
In the last few years, free AI tools like ChatGPT and Google's Bard have been an excellent way to increase productivity. Employers need to be aware of how employees utilize these tools, especially concerning sensitive data.
This free AI in the workplace policy gives you a framework to communicate clearly to employees when AI should be used, who is allowed to use it, what information can be uploaded to AI, and when to disclose the use of AI in their work.

Generate your free policy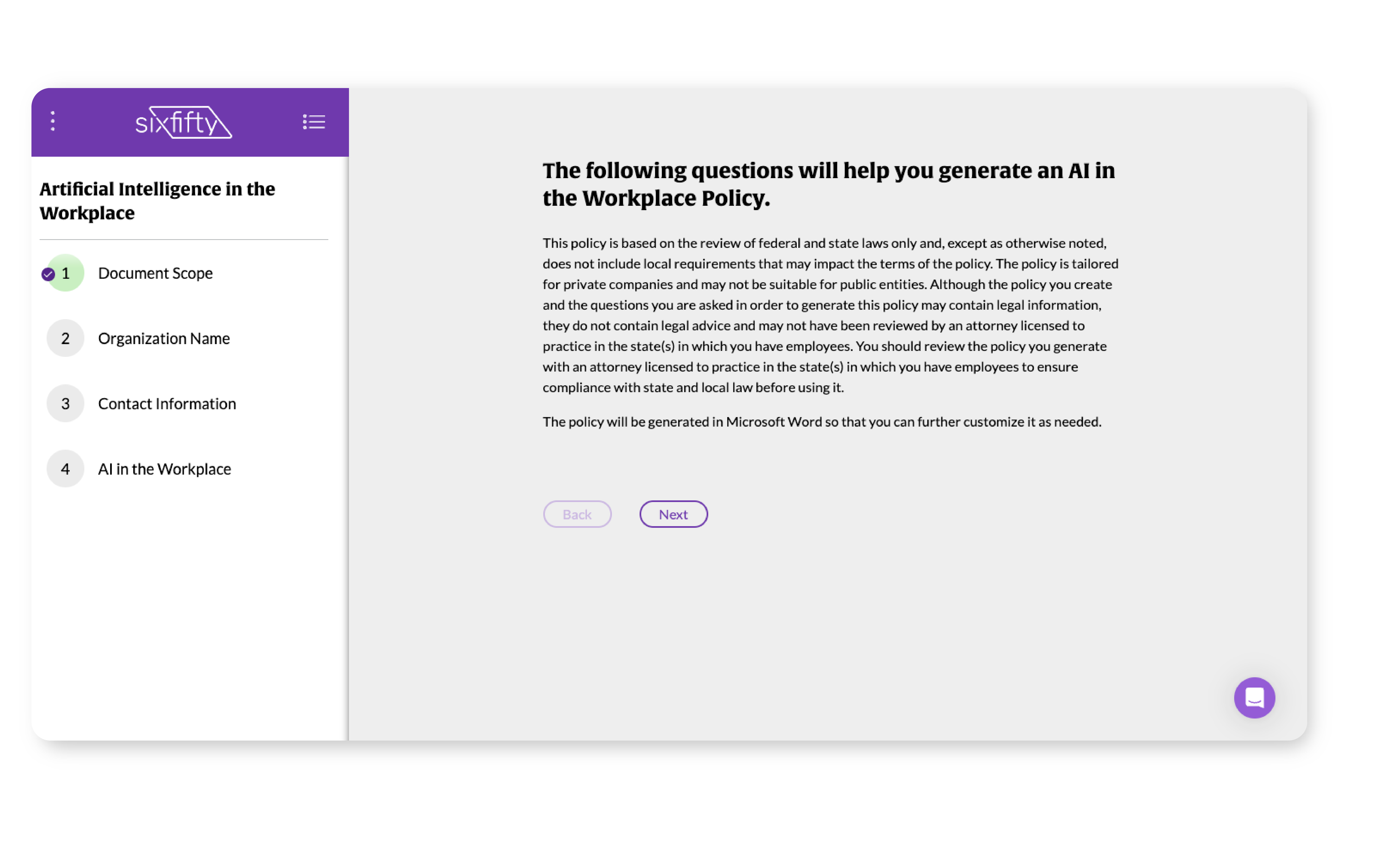 Why should I have an AI in the Workplace Policy?
Adding an AI in the Workplace Policy to your employee handbook or any other policy-related documents can help protect your company and your employees.
Some of the many risks of not having a clear policy include:
Loss of intellectual property: Many free AI tools allow you to upload sensitive information. Just like you wouldn't want an employee leaving with a list of your most valuable customers or code, you need to be equally as diligent with uploading information online. A written policy can protect against employees potentially leaking trade secrets through AI.
Accountability: Employees, even if they are utilizing AI along with your policy, need to be accountable for the outcome of their work. A clear policy can outline the expectations when using AI, including cross-referencing any other information to ensure accuracy.
Moral/Ethical standards: AI is still trained by models that can exhibit inherent bias or, even worse, discriminate against certain groups of people. Some cities and states have started to outlaw the use of AI in hiring due to these biases. An AI in the workplace policy can help employees recognize the biases in generative AI tools and mitigate them.
What do I do with an AI in the Workplace Policy?
This free AI in the Workplace Policy will generate a Word document that you can modify and fit to meet your company's needs.
You should include this policy in your employee handbook or company intranet and notify employees of the new policy.
If you still need a compliant employee handbook, check out SixFifty's Employment Docs toolset that allows you to create a handbook for one, many, or all 50 states.
What's included in the free policy?
You must create a free account on SixFifty's Marketplace to create the policy. Having an account will allow you to save your place as you answer questions and also allow you to come back and download the free policy at any time. The AI in the Workplace Policy will include information on the following:
Allow, limit, or prohibit the use of generative AI.
Outline which generative AI tools are permitted, such as ChatGPT, Bing AI, Google Bard, and Github Copilot.
Disclose the outcome of violating the policy, such as disciplinary action or termination.
Set standards for how output from AI should be reviewed for accuracy and bias.
Expectations and limitations for inputting sensitive company data and intellectual property.
Outline who should be contacted for questions on the use of AI at your company.
What format does the free policy come in?
You will receive your finished document in a Word format for easy editing.
You can log in to your SixFifty Marketplace account anytime to access the completed AI in the workplace policy. We will also email you a final copy.
Is it illegal to use AI in the workplace?
According to the National Conference of State Legislators, "In the 2023 legislative session, at least 25 states, Puerto Rico, and the District of Columbia introduced artificial intelligence bills, and 14 states and Puerto Rico adopted resolutions or enacted legislation. Examples of the enacted legislation and adopted resolutions include:
Connecticut required the state Department of Administrative Services to conduct an inventory of all systems that employ artificial intelligence and are in use by any state agency and, beginning Feb. 1, 2024, perform ongoing assessments of systems that employ AI and are in use by state agencies to ensure that no such system shall result in unlawful discrimination or disparate impact. Further, the legislation requires the Office of Policy and Management to establish policies and procedures concerning the development, procurement, implementation, utilization, and ongoing assessment of systems that employ AI and are used by state agencies.
Louisiana adopted a resolution requesting the Joint Committee on Technology and Cybersecurity to study the impact of artificial intelligence in operations, procurement, and policy.
Maryland established the Industry 4.0 Technology Grant Program to assist certain small and medium-sized manufacturing enterprises in implementing new "Industry 4.0" technology or related infrastructure. The definition of Industry 4.0 includes AI.
North Dakota enacted legislation defining a person as an individual, organization, government, political subdivision, government agency, or instrumentality and specifying that the term does not include environmental elements, artificial intelligence, an animal, or an inanimate object.
Texas created an AI advisory council to study and monitor artificial intelligence systems developed, employed, or procured by state agencies.
North Dakota, Puerto Rico, and West Virginia also creating similar councils. Additionally, state lawmakers are considering AI's benefits and challenges—a growing number of measures are being introduced to study the impact of AI or algorithms and the potential roles for policymakers."
To see a state-by-state breakdown of any current laws visit this page.
Explore the full Employment Docs suite
20,000
Documents generated with SixFifty
1,000+
Customers and growing daily
150+
Policies and documents in our Employment Docs toolset
215+
Employment law updates published in the last year
Why SixFifty?
Employment law is complicated. SixFifty simplifies legal requirements for every stage of the employee lifecycle.

Generate your free policy
Start your free policy now
Answer the quick Q+A, download in Word, and add it to your employee handbook and set clear expectations for employees' use of AI.