The New Normal
The COVID-19 pandemic required companies to rapidly adapt to many changes in their workforce. Seemingly overnight, entire workforces started telecommuting/working remotely. According to a Gallup Poll, 62% of employed Americans said that they have telecommuted at some time during the COVID-19 pandemic, double the number prior to the pandemic. About 42% of the American workforce is now telecommuting full-time, which is unprecedented.  
Many companies expected remote working to be short-term and hoped to transition employees back to the workspace soon, but the timeline got pushed from the summer of 2020, to the fall of 2020, then the beginning of 2021. Many companies are developing indefinite plans for employees to work remotely one to three days a week or entirely remotely.  The stigma of remote working has disappeared, and a majority of Americans prefer telecommuting. Sixty-percent of employees currently working remotely indicated they would like to do so as much as possible in the future.  The Survey of Business Uncertainty conducted by the Atlanta Federal Reserve and the University of Chicago indicated that the number of days spent working remotely is expected to increase from 5% before the pandemic to 20% well after the pandemic.  The massive shift to remote working comes with legal complications. 
Telecommuting Policies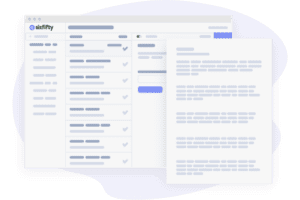 Many companies did not have any remote work or telecommuting policy in place prior to the pandemic, and the companies with such policies had outdated language and procedures.  State remote work policies may limit eligibility to work remotely or limit the frequency or duration of working remotely. Most companies are starting from scratch and creating entirely new remote work policies to address the flexibility needed for the new remote workforce.  
Some states require companies to reimburse certain work-related expenses of employees that telecommute. Even for companies in states with no requirements, many companies are permitting employees to take their office equipment home or offering reimbursement to purchase equipment. Companies should create a policy to specify what equipment employees are permitted to take home, what equipment is reimbursable, how to submit reimbursements, and the maximum amount of reimbursement available for employees. 
With the potential for infection from COVID-19, closure of schools, and additional family obligations imposed on employees, many companies are implementing additional leave policies for employees. Each employee has a unique home, family, and health situation, so companies should have a policy in place to ensure employees are treated consistently to avoid discrimination claims. 
Labor Laws for Telecommuting
Labor laws still apply to employees working remotely. For example, the Occupational Safety and Health Administration ("OSHA") requires that companies "furnish to each of his employees employment and a place of employment which are free from recognized hazards that are causing or are likely to cause death or serious physical harm to his employees," even when that place of employment is the employee's home.  The Americans with Disabilities Act ("ADA") requires companies evaluate potential reasonable accommodations to an employee's disability, including accommodations to employees working remotely. A disabled employee may need special equipment or technology to continue to perform the essential functions of the job remotely. 
The Fair Labor Standards Act ("FLSA") requires companies to compensate non-exempt (hourly paid) employees for time spent working at home. Companies must pay employees for all work they knew about or should have known was performed, even if they did not ask for the work to be done. The tracking, reporting, and compensation of non-exempt employees can be complicated by telecommuting. On August 24, 2020, the Wage and Hour Division of the Department of Labor issued a Field Assistance Bulletin with guidance for companies on how to track work per
formed by non-exempt employees working remotely. According to the Bulletin, companies can satisfy their obligation "by establishing a reasonable process for an employee to report uncompensated work time." Additionally, state laws providing mandatory rest and meal breaks still apply to employees working remotely.  Companies should have a policy that explains what constitutes work, rest and meal break requirements, time-keeping expectations, and overtime procedures. These should be communicated and explained to employees and consistently enforced.  
Relocating Employees
Anywhere from 14 to 23 million Americans are planning to move as a result of remote work, according to an economist report by Upwork. Companies have payroll, worker's compensation, and unemployment insurance obligations in the jurisdictions where their employees are working. If employees relocate to a state or country where the company was not previously doing business, this may result in unexpected tax and labor law obligations for the company. Companies should communicate these issues to employees and require employees report to the company where they reside so the company can comply with the labor laws in those jurisdictions. 
SixFifty Tool
SixFifty is the technology subsidiary of the law firm Wilson, Sonsini, Goodrich & Rosati (WSGR). SixFifty has worked closely with WSGR employment attorneys to create a Return-to-Work Toolset that helps companies plan for long-term remote working and transition employees back to the worksite when the company is ready.  The SixFifty Return-to-Work Toolset helps companies generate important policies such as: a Work from Home Policy, an Extended Sick and Family Leave Policy, a Reimbursement Policy (for COVID-related work expenses), and a Return to Work Policy. Policies provide clear messaging to employees, ensure employees are treated consistently, and navigate the legal complexities of remote working.