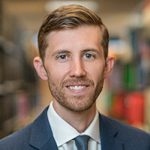 Articles By Adam Wright
Adam Wright is a Vice President of Legal Product at SixFifty. Adam brings a wide range of practical legal experience to his work at SixFifty, and loves that his daily work is geared toward making the law more accessible and affordable for people and businesses.
Education and Experience
Adam graduated from the University of Texas with a degree in Spanish, with no plans to ever attend law school. After graduating, he immediately put his Spanish degree to good use, working with a community development non-profit in Ecuador. Adam then served as an Americorps volunteer at a community center and shelter for recently-arrived immigrants in Austin, Texas. It wasn't until Adam spent an entire year teaching English to sixth graders that he decided law school might be the right choice.
Adam attended the University of Michigan Law School as a Clarence Darrow Scholar. While in law school, he served on the editorial board of the Michigan Journal of Race and Law, spent a semester in North Carolina working for the Farmworker Unit of Legal Aid of North Carolina, and served as a summer intern in the Civil Rights Division of the U.S. Department of Justice.
After graduating magna cum laude, Adam served as a federal judicial law clerk in the Eastern and Middle Districts of North Carolina. Before joining SixFifty, Adam worked for several years at large law firms in Utah and New Mexico, where he specialized in intellectual property and commercial litigation.
Achievements with SixFifty
Adam led the development of SixFifty's Employment Agreements tool, which includes customizable offer letters, employment contracts, separation agreements, and arbitration agreements, tailored to the laws of all fifty states and Washington, D.C. As workforces become increasingly remote, it's harder than ever for businesses to ensure they are complying with employment laws in every state where they have employees. With the Employment Agreements tool, SixFifty makes compliance simple. In addition to working on SixFifty's employment tools, Adam also plays an active role in creating SixFifty's pro bono products.
Get to Know Adam
Adam lives in the Sandia Mountains outside of Albuquerque, New Mexico with his wife, two kids, and two dogs (Lefty and Turkey). When not at work, you can usually find him outside skiing, mountain biking, or trail running. He earns his keep at home by baking sourdough bread every week. Adam is also a big fan of old country music: the more pedal steel and twang, the better.
TL;DR – Adam learned the hard way that sixth graders are worse than law school.
Bar Licensed
New Mexico