Cut Privacy Compliance Costs in Half
Receive the world-leading privacy expertise of Wilson Sonsini. Don't pay anything until your contract with your current vendor ends and we'll get you up and running in 45 minutes, guaranteed.
Better service. More intuitive technology. None of the features you don't need. All for half the price.
Hassle Free
Most companies are looking to cut costs during this economic crisis. This can be difficult for compliance and legal departments as they struggle to find alternative solutions and services to solve their needs, without sacrificing quality or increasing risk. We can help.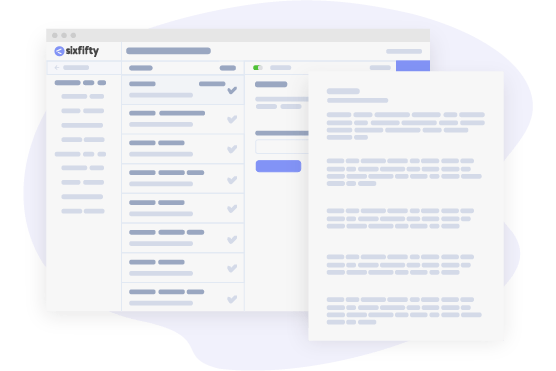 Half off.

We are offering our entire suite of CCPA and GDPR solutions at HALF of your current vendor's price for the same services. Simply provide us with your current vendor pricing, and we'll offer you half the price.

Under Contract? No Problem.

Our solution is free until your current contract expires. Enjoy our full-featured solution at no charge until your existing contract is finished.

Free transition services.

Change can be hard, but it doesn't have to be. Our implementation and legal teams will provide assistance to make it as frictionless as possible. Once you are ready, we'll get you up and running in 45 minutes, guaranteed.
Robust and Happy
SixFifty, with the help and backing of Wilson Sonsini, have developed a robust tool set that helps companies comply with the CCPA and GDPR compliance laws quickly and for a fraction of the cost.
Robust CCPA/GDPR Tools.

SixFifty has developed robust tools that help you operationalize compliance with the law. These tools include: CCPA, GDPR, Data Mapping, DPIA, Legitimate Interest, Cookie Consent, and Training. Learn more.

Wilson Sonsini.

SixFifty is backed by the best privacy law firm in the world, Wilson Sonsini. Rest assured, you'll be leveraging the best privacy expertise available.

Happy Customers.

If you are not satisfied with our solution, we'll refund your money. See what they say.