America is grappling with significant racial tensions and social justice issues. Because these issues affect individuals personally and professionally, they also shape the workplace. Companies are increasingly considering how they can create more diverse, equitable, and inclusive ( DEI) workplaces in light of the current social climate.  
Benefits to Diversity and Costs of Discrimination
Creating a diverse, equitable, and inclusive workforce creates value for a company. McKinsey & Company's most recent Delivering Through Diversity Report found companies that embrace gender diversity on their executive teams were more competitive and 21% more likely to experience above-average profitability. Those companies also had a 27% greater likelihood of outperforming their peers on longer-term value creation. A Boston Consulting Group study found that companies with more diverse management teams have 19% higher revenues due to innovation. 
The Center for American Progress estimates that workplace discrimination costs American companies $64 billion annually. This is due to the cost of losing and replacing more than two million workers who leave their jobs each year as a result of unfairness and discrimination. Discrimination hinders employee productivity and recruiting. Employment lawsuits resulting in a judgment or settlement cost an average of $125,000 and are ongoing for an average of 275 days. Workplace distractions, reputational harm, and lost productivity also follow employment lawsuits. Employees' mental, physical, and social lives can be negatively impacted by workplace discrimination.  Companies should commit to diversity, equity, and inclusion not just to avoid economic loss, but to proactively promote a positive workplace for all of their employees.
What is DEI?
Diversity, equity, and inclusion ("DEI" or "D & I") are three separate considerations: 
"Diversity" means representing all identities, differences, and experiences including race, ethnicity, gender identity, religion, sexual orientation, and others;
"Equity" means providing opportunities for advancement for everyone. This includes identifying and eliminating barriers that have prevented the inclusion and participation of select groups and understanding the causes of those barriers to prevent the creation of new ones. 
"Inclusion" means establishing an environment where employees of all backgrounds can thrive. It also means promoting equal opportunities for employees to overcome structural barriers and achieve success.
Leading Law Firm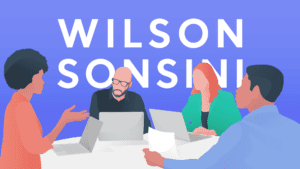 SixFifty is the technology subsidiary of the law firm Wilson Sonsini. Wilson Sonsini, one of the most important technology law firms in the world, is a leader in grappling with diversity, equity, and inclusion issues in an industry that has long struggled with DEI. Wilson Sonsini has been recognized for numerous DEI awards. In August 2020, the firm ranked first among big law firms in Law360's annual Diversity Snapshot. Wilson Sonsini has taken strides to increase DEI in its upper ranks and has the highest percentage of minority equity partners (18.6%) and the second-highest percentage of minority attorneys (29%). The firm's employment attorneys have been inundated with requests to help companies improve diversity, equity, and inclusion while maintaining legal compliance. 
Innovating DEI Programs
Many companies desire to improve DEI but don't know where to start, how to identify areas for improvement, or how to avoid the legal landmines. American companies spend around $8 billion annually on diversity training, but training alone is insufficient. The cost to create and implement a comprehensive DEI program can range from $25,000-$450,000. Many companies lack the resources to hire a DEI consultant and work with outside counsel to create their own programs. Wilson Sonsini employment attorneys have partnered with SixFifty to create an innovative DEI program that uses automation to help companies understand, implement, and continually improve DEI in an authentic way. This program automates the foremost DEI legal advice and best practices to make them accessible for all companies, regardless of their size or where they are in their DEI journey. 
The SixFifty DEI program has four components. First, companies must assess and plan. The assessment helps companies understand central DEI considerations, evaluate their current efforts, and identify additional areas for improvement. The assessment is divided into three phases with different focuses and action items based on the company's progress in their diversity, equity, and inclusion journey. The assessment generates an action plan that outlines key action items and the crucial issues to consider when formulating and implementing DEI initiatives. This flexible approach allows companies to tailor the action items to their unique circumstances.  
The second component is a toolset for executing on the DEI program. These tools include the essential legal documents to formalize and communicate a company's DEI initiatives, including a sample vision statement, non-discrimination policy, candidate evaluation form, exit interview form, and affinity group policy. These documents are customized based on information provided by the company. A questionnaire portal permits companies to anonymously survey their employees and allows employees to provide ongoing, anonymous feedback and/or submit EEOC complaints. 
Third, SixFifty monitors the DEI landscape for legal and best practice updates and revises the documents accordingly. Companies receive regular ongoing guidance to stay informed of this evolving landscape. DEI programs often take months and years to fully implement, so SixFifty checks in quarterly with the company to review the status of the DEI program. Finally, companies can meet with an experienced DEI consultant to ask specific questions and receive additional guidance as needed. 
Takeaway
Diversity, equity and inclusion is critical to a company's success and to the well-being of employees. SixFifty's DEI program helps companies start a DEI program or take their current program to the next level.  Click here to request a demo.