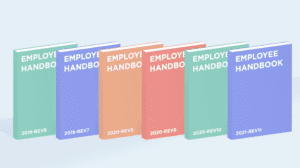 It's really hard to know what to include in your company's employee handbook. There are hundreds of employment laws, and they're always changing. . If you're in charge of your company's employee handbook, you've probably asked yourself "how big should an employee handbook be, and what policies should it include?"  Good news, you have come to the right place!  Sixfifty understands how hard it is to build an employee handbook that's up-to-date and includes the right policies and guidelines.  So, we compiled the most searched questions on employee handbooks to help give you a better understanding of what laws and regulations your business will need to follow! 
Most Searched Employee Handbook Questions:
What is an employee handbook? 
An employee handbook, also known as staff policies or companies policies, is a valuable communication resource that employers give to their employees.  This handbook can provide guidance related to the organization's history, values, policies, procedures and benefits in written form.
How big should an employee handbook be?
The simple answer is, it depends on how many employees your company has and in what states.  Sixfifty offers an easy to use employee policy assessment to help you see what policies are required and what policies are optional for your employee handbook.
How to develop an employee handbook
The best way to start  an employee handbook is to determine which policies you'll include. Some policies, like an Equal Employment Opportunity Policy, are required by state or federal law. Other policies, like a Social Media Policy, may not be required by law, but help protect your business and your employees. If you're not sure where to start, you can take SixFifty's employee policy assessment.
How many employment laws are there?
According to the Department of Labor, they oversee and enforce around 180 federal employment laws.  These mandates cover workplace activities for 150 million workers and 10 million workplaces.  These regulations cover employment laws for hiring, wages, hours and salary, discrimination, harassment, employee benefits, paid time off, job applicant as well as  employee testing, privacy, and other important workplace and employee rights matters. In addition to Federal Law, you'll also need to consider state laws in every state where you have employees. 
What are employee policies? 
According to the Houston Chronicle, employee policies are policies and regulations for how all employees, regardless of job description or title, are expected to conduct themselves.  These policies are usually developed by a company in conjunction with state and federal labor laws. 
What policies are legally required? 
The Department of Labor requires companies to inform their employees of their rights, and each state has separate state and federal regulations.  Check out our interactive map to see what regulations your handbook needs! 
What policies should be included?
All state and federal laws required should be included in your company's handbook.  Please check our state map for state-by-state policies required by local and federal labor laws. 
How often should you update your employee handbook?
Companies should update their handbook annually at the very least, as employment law is ever-changing and it is important to keep up to date with employment regulations.  It is important to note that these changes should be reflected in your company's employee handbook in order to protect both the employer and employee. Ideally, you should consider updating your handbook any time that a policy required by state or federal law changes. 
Need a Solution? 
SixFifty offers an Employee Handbook tool.  SixFifty's Employee Handbook can be customized to your business needs, with over 50 policies that account for the law in every state, and built for a post-COVID workforce that's more remote, mobile, and diverse.  
This tool was created with your business in mind, so we teamed up with the top employment law firm in the nation to teach a computer to write your employment policies for your company just like an attorney would. SixFifty's Employee Handbook tool asks you the same questions as an attorney would, and then uses your answers to create the employment documents your company needs.
Sixfifty is here to help!
As you can see, there are over 180 Federal laws and regulations that are administered in the workplace by the Department of Labor.  And every state has its own laws as well. With so many regulations it can be hard to understand just exactly what policies your handbook should include.  That's why, Sixfifty has created a helpful resource for your business to see what federal and state guidelines your company should be following on a state by state basis. 
If you are looking for further help creating your own employee handbook, SixFifty's Employee Handbook can be customized to your business.  Our system guides you through an employee policy assessment and then uses your answers to customize the employment documents your business needs! It's like having the best employment lawyer in the world by your side, helping your business!   
Still have questions? Schedule a free demo today!