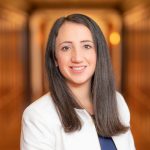 Articles By Adrienne Jack
Adrienne Jack is a Vice President of Legal Product at SixFifty, focusing on employment law. She's enjoyed riding the roller coaster of employment law the past two years. With remote working as the new normal, companies have employees across the nation and more employment laws and issues to navigate than ever before. As employment law changes at an unparalleled rate many companies are struggling to keep up. Adrienne's goal is to help companies leverage technology to create safe, inclusive, and compliant workplaces.
Education and Experience
Adrienne studied business management at Brigham Young University before attending Northwestern Pritzker School of Law. She was drawn to corporate, tax, and transactional types of law and focused her coursework in those areas. Chicago is still her favorite city in the United States. You can't beat the Chicago food and summer by Lake Michigan! One of her favorite law school memories is giving birth to her second child and giving a presentation to her class the day she was discharged from the hospital – a postpartum presentation!
After law school she worked at Hogan Lovells in Washington D.C. for four years doing corporate, employment, and tax work. She drafted employment agreements, equity compensation plans, severance agreements, proxy statements, non-competition agreements and negotiated definitive purchase agreements for over 100 mergers and acquisitions, spin-offs, initial public offerings, or other corporate transactions, including taking Dell public. The mountains called her home, and she relocated to Salt Lake City and joined the law firm Kirton McConkie where she drafted corporate documents and advised clients on corporate and tax matters. She especially liked helping families navigate probate and estate planning issues because many families were eager for guidance during difficult times.
Achievements with SixFifty
Adrienne's experience has made her especially equipped to focus on SixFifty's employment tools. She created SixFifty's employee handbook to help companies create robust handbooks with 60+ employment policies that can comply with the laws of any state. Helping companies carefully and thoughtfully navigate COVID-19 regulations and create a safe workspace is also a top priority for Adrienne and she's played a key role in expanding SixFifty's COVID-19 prevention tool. When Cal/OSHA issued their COVID-19 emergency temporary standard, she dived in and became an expert, then drafted SixFifty's Cal/OSHA COVID-19 module. She's presented in over 15 webinars on topics like COVID-19 prevention in the workplace, creating employee handbooks for remote workforces, and other employment topics.
SixFifty's pro bono work is important to Adrienne, and she's helped with various pro bono projects such as return-to-worship, hello lender, and many upcoming projects.
Get to Know Adrienne
While not researching employment law, Adrienne enjoys being with her family; her husband and five children fill her life and schedule. You will often find them hiking, playing pickleball and four square, and watching movies together. With two lawyers as parents her children are asked to plead their case for privileges or consequences to the family court. Ideally Adrienne would spend every day at the beach eating street tacos, but working in her home office looking at the snow-capped mountains is an acceptable alternative. Adrienne takes great pleasure from a solid Venn diagram. As a Taylor Swift fangirl, she enjoys wearing Tay merch, debating which album is the best, and awaiting the next TS concert.
TL:DR "She had a marvelous time ruinin' everything."
-Taylor Swift
Bar Licensed
Utah