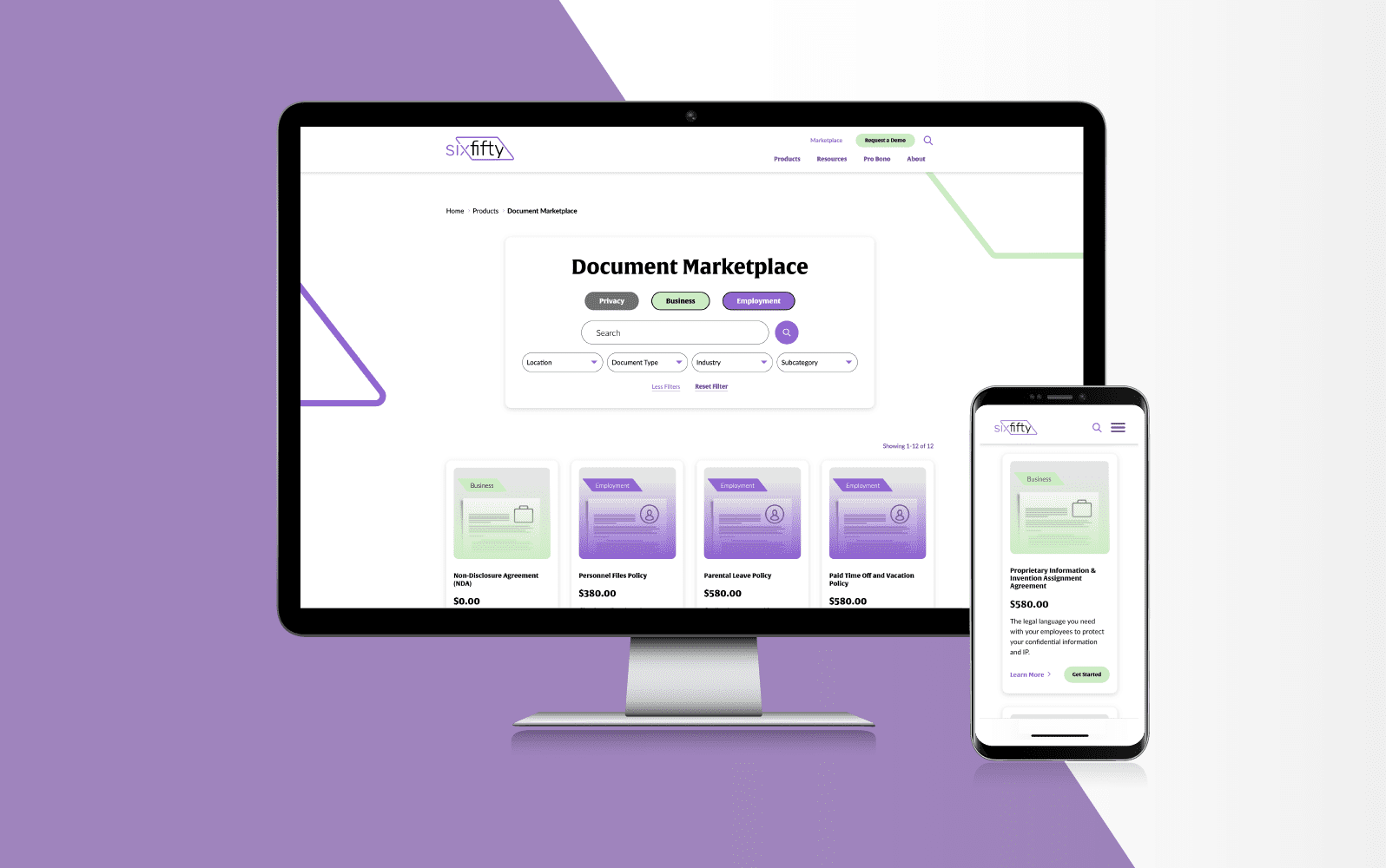 How does the Marketplace work?
Our legal document generation process walks you through the same questions and analysis used by top-tier attorneys for a fraction of the price of an attorney's billable hours. Our software generates customized documents that are unique to your business.
Simply select a document, create an account, answer the questions, and check out. Voilà! You'll receive an email with your customized document.
What makes our Marketplace docs better than a template?
Built by legal experts
Powered by world-renowned Wilson Sonsini, SixFifty prides itself on quality.
Customizable
Documents are created in Microsoft Word to allow for maximum flexibility.
Updated regularly
Our team of top lawyers actively monitor changes in the law to update documents.
Always available
Unlike traditional outside counsel, you can create your documents 24/7.
Documents available on the Marketplace
Every business needs basic legal paperwork to help them sell products and services, partner with other organizations, and generally run the operations of their company. SixFifty's Marketplace houses the corporate and commercial documents that provide companies with the legal foundation they need to thrive and grow.
Non-Disclosure Agreements
General Non-Disclosure Agreement
B2B SaaS Non-Disclosure Agreement
Life Sciences Non-Disclosure Agreement
Advisors, consultants & contractors
General Advisor Agreement
Scientific Advisor Agreement
General Consulting Agreement
Life Sciences Consulting Agreement
Independent Contractor Agreement
Independent Sales Representative Agreement
Proprietary Information & Invention Assignment Agreement
General commercial
Website Terms of Use
Website Privacy Notice
Services Agreement
Master Services Agreement
Master Subscription Agreement
Referral Agreement
Trademark / Copyright License Agreement
Joint Development Agreement
Material Transfer Agreement
Equipment Purchase Agreement
Equipment Lease Agreement
Basic Written Agreement
Basic Letter Agreement
Media Release
General Liability Release
Late Payment Collection
Letter Series
Negotiation documents
Memorandum of Understanding
Letter of Intent
Term Sheet
Amendments, notices & consents
Amendment to Agreement
Notice of Renewal
Notice of Non-Renewal
Notice of Change of Contact Information
Notice of Termination Without Cause
Notice of Termination For Cause
Notice of Abandoned Property
Notice of Assignment
Request for Consent to
Assignment of Agreement
Consent to Assignment
Assignment and Assumption of Agreement
Waiver of Contract Rights
Termination Agreement
Mutual Rescission of Contract & Release
Contract provision generators
Non-Competition Provision
Non-Solicitation Provision
Indemnification Provision
Limitation of Liability Provision
Dispute Resolution Provision
Term & Termination Provision
Force Majeure Provision
Governance, equity & finance
Board Meeting Minutes
Unanimous Board Consent
Secretary's Certificate
Manager's Certificate
Equity Award Plan
Equity Award Agreement
Convertible Note
SAFE Note
Is a subscription right for me?
The SixFifty Marketplace is ideal for businesses who need just a handful of routine documents. For access to the full library of the most up-to-date business documents that can be customized through the mighty power of your fingertips, a subscription is the way to go.
SixFifty Marketplace
Business Docs Subscription
=Business Docs Subscription
Comparison
Access any document, any time
Unlimited document generation
Ongoing customer service support
Legal knowledge insights from real lawyers
Customizable legal documentation
Discover the Marketplace
In just 2 minutes, see how you create world-class legal documents using our question and answer flow.